Going Digital-Only: Last Ditch Effort or Smart Strategy?

More print titles are going digital-only.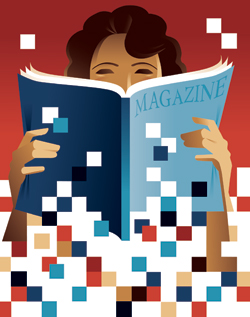 PC Magazine. Avenue A. PROMO. Craft. The list of former print titles going digital-only is growing almost weekly as publishers shift from a print product that is no longer economically feasible to what they hope is the future of their brand.
But going digital-only isn't an automatic recipe for success; for many publishers, it's a last ditch effort before folding completely. If your online business hasn't been at least as important as your print product, going digital-only now may only prolong the inevitable, instead of revitalizing your brand.
"The biggest distinction between what we've done and what you see other companies go through is we made the decision back in 2001," says Jason Young, CEO of Ziff Davis, which has taken several titles digital-only, including 700,000-circ PC Magazine in January. "That was a several-year process. Unfortunately, a lot of these businesses are saying 'We're going digital-only,' but when they haven't built that scale, they won't be successful."
At the FOLIO: Growth Summit last month, IDG CEO Bob Carrigan offered an indicator of whether a publisher can make it online. "When they find you through organic search—that's the Holy Grail," Carrigan said. IDG has changed from a revenue mix of 74/16/10 percent print/event/online in 2002 to a 38/20/42 percent last year.
Product Mix
At its recent meeting, the board of the Audit Bureau of Circulations (ABC) expanded the definition of a digital magazine edition to include content published via any digital means, not just an exact electronic copy. Beginning with June 2009 ABC statements, magazines may report paid digital editions in two categories: "replica," where the advertising and editorial content exactly match the printed publication, and "nonreplica," where the basic identity and content are similar to the printed edition but the articles and advertising may differ. Free, unrestricted public access to a Web site does not qualify as a paid digital edition.
Ziff Davis made PCMag.com and a new digital network—including sites ExtremeTech, Good Clean Tech, Gearlog, DL.TV, Appscout and CrankyGreeks—the focus of its digital strategy (Young says the network averages 7 million unique visitors per month). A digital edition powered by Zinio offers more "magazine-like" content. "The Web site is the heart and soul of the brand and the digital magazine is sort of a continuation of what the print magazine did," says Young. "We had to think and act as a pure play right from the beginning. We didn't have to educate customers why they should be buying digitally, they'd already been doing it for seven or eight years."
Penton recently shuttered the print editions of marketing trade titles Promo, Direct and Multichannel News, shifting their focus online while debuting a new print title called Chief Marketer, which will be sent on a bi-monthly basis to 25,000 readers culled from the Promo and Direct databases, with a digital edition from NxtBook Media.
However, if your product suffers from core problems such as weak editorial, going online-only won't help. "If you are planning to move to digital-only, the easiest thing to do is duplicate what you were doing before," says Allan Brown, sales director at UK-based Graduate Prospects, which went digital-only several years ago. "But you must ask yourself, 'Why was it not working in print?' If you fail to address the answer to this, it is unlikely you will succeed in your new venture."
New Economic Realities
Most publishers jumping to digital expect a smaller but more profitable business, but it could take years to get back to where they were. Young won't reveal specifics, but did say PCMag.com is profitable, albeit smaller. When it folded in January, PC Magazine alone generated more than $80 million in annual PIB revenue (and was still profitable despite a 25 percent drop in ad pages, according to Young).
Even accounting for overestimation by PIB, that's a lot of revenue to walk away from. "We're not going to function at the level of total scale and profitability that we did at the peak of print for a considerable period of time but there's a good business here and a clear path because we have achieved that level of scale and profitability that digital media companies covet in the digital space," says Young.
Converting Audience To Online
Many titles continue to see significant separation between their print and online audience. A recent survey from the Rosen Group found that while more than 80 percent of respondents had consumer magazine subscriptions, only 7 percent of those subscribers also sought out the magazine's Web site.
When O'Reilly Media's Craft folded in February in favor of the digital edition and Web site, it offered existing subscribers full access to its digital archive through April 1, 2009, in addition to refunds. Subscribers who transferred their subscription to Make were incentivized by continued, unlimited access to the digital edition archives provided by Texterity.
While 90 percent of PC Magazine readers were also going to the Web site, Ziff offered digital editions to every print subscriber so they knew there was an ongoing magazine-like experience. "We were pleasantly surprised at the number of subscribers who opted to continue to get it in digital format," says Young.
Popular Science is prepping its readers for e-readers going more mainstream. Last month the magazine launched a new digital product called The Pop Sci Science Guide that uses Zinio's latest digital publishing version, which lets publishers embed video, animation and hyperlinks. The Guide is testing various price points of 99 cents to $4.99 per issue, with the goal of getting 900,000 readers combined for the first four.
Advertisers may need to be coaxed as well. Don't use this as an excuse to nickle and dime them. Some publishers charge to make hyperlinks live in digital magazines —something they never would do with their Web site.
But remember, if the print product can still sustain your business as you ramp up online, don't make the jump too soon.
"We had a magazine that was declining up until its last issue but it was producing real cash," says Young. "That gave us time and capital to get the digital business to a level where it could profitability carry the business forward. For publishers that have suddenly become untenable and don't have that digital scale, I don't know if it can carry them forward, You're going to see a lot of businesses go away."
Meet the Author
---