Going All-In On Data

Penton's enterprise-wide, in-house data initiative.
Early this year, multi-market B2B media company Penton rolled out a major data initiative. Called SmartReach, it's essentially an entire division dedicated to applying data services internally for Penton's brands, but also, importantly, for endemic and non-endemic brand marketers.
The effort signaled a shift to fully internalize most of what is historically outsourced to list company vendors.
SmartReach is fundamentally set up to manage the full range of subscriber and customer data and package it in ways to support integrated marketing campaigns sold by the company's sales and marketing services teams.
Penton is also touting the new
group in the context of what might be
considered the next wave after "digital-first"-professional information
services. In other words, the need for
data on the publisher side to determine
what information customers need and
the data marketers need to target those customers and determine ROI for a campaign are considered increasingly core to future success.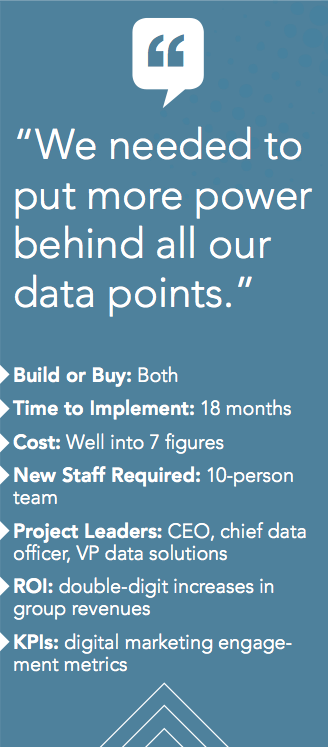 THE PROCESS
In that context, Penton has brought the full data marketing operation in-house. It's cut ties with its data management company and has built a team of 10, some with previous list marketing company experience.
"We've built a direct marketing team to support our internal reps and to tap into this large audience to target effective solutions and up our game in metrics and reporting to become a better marketing partner," says Joann Kropp, vice president, customer data solutions.
While Penton has media brands in 17 markets, SmartReach will primarily serve a core grouping: agriculture, transportation, natural products/food, infrastructure, design and manufacturing.
According to the company, its database has 16 million records with 1,000 data points for marketers to hone in on a particular audience segment. But Kropp says the decision to move the entire operation in- house hinged on two factors: her team's understanding of the audience and the ability to work with a marketing client in a turnkey manner.
At the core of SmartReach is the ability to take behavioral data from visitor activity across Penton's 125 websites and match it back to an IP address. Essentially, Penton's data team can determine, through site visitor behavior across a particular market sector, which companies are potentially performing purchase research.
The company built the infrastructure to support SmartReach, but partners with third parties for some support functions such as data standardization and processing. Implementation took about 18 months, says Kropp.
In all, says a spokesperson, Penton spent "well into seven figures" for both the tech and infrastructure and the 10-person data team comprised of product managers, engineers and data scientists lead by a chief data officer.
One product, called Web Target, has already launched.
It allows customers to leverage Penton's behavioral data to isolate key segments for email marketing campaigns. Another is called Audience Extension, which uses email marketing as a jumping off point for a re-targeting campaign. "It's extending an audience that has already engaged and proved an interest," says Kropp. "Our version is a springboard from our email."
Kropp notes that B2B marketers have become much savvier with digital marketing, particularly with campaign measurement. "As the technology for tracking emails improves, customers are getting more sophisticated with backing into those metrics. We needed to put more power behind all our data points. Marketers want to get to the right people and they want to measure that. When you really do the studying and understand the metrics the clients are getting, you realize it takes more than one email campaign."
Targeting audience segments is certainly nothing new, but as Kropp notes, marketers want to see the metrics.
Meet the Author
---