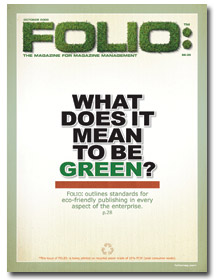 Carbon Offsets. The financial instrument, utilized by individuals or companies, representing a reduction in greenhouse gas emissions.

Chief Sustainability Officer. An executive put in charge of a corporation's environmental programs.
Environmental Stewardship Policy. A formalized mission statement establishing companywide green objectives for both employees and customers.
Freesheet. Paper containing less than 10 percent mechanical pulp; sometimes referred to as wood-free.

Forest Stewardship Council-certified. Certification from an international non-profit which verifies responsible forest practices.
Green Fatigue. The eco-exhaustion experienced by those bombarded with green products, services and news from advertisers, the media and companies.
Greenwashing. A term used to describe the perception by many consumers that they are being misled on environmental practices of a company, or the benefits of a company's product or service.

Integrated Mills. Mills that produce both pulp and paper.
LEED-certified. Abbreviation for "Leadership in Energy and Environmental Design," a green building rating system that encourages global adoption of sustainable green buildings and development practices.
Lifecycle. Analysis of a product from production stage to disposal.
OMG. Abbreviation for a recovered paper grade including old magazines, catalogs and similar materials.
Post-consumer waste. Waste material, such as paper, that has passed through its end-user, the consumer.

Pre-consumer waste. Waste material from manufacturing operations—dry mill and printer factory waste, newsstand returns—that has not reached its end-user. This is highly desirable waste because it normally contains fewer contaminants and is easier to process.
Sludge. A byproduct of recycled paper composed of ash, coating, ink residues and chemicals that are not reused.
Soy Inks. Inks containing soybean oil.

Sustainable Forest Management. Managing a forest in a way that enhances its ecosystem while providing environmental, economic, social and cultural opportunities for present and future generations.
SOURCES: Magazine Publishers of America 2008 Environmental
Handbook and FOLIO: research
SEE ALSO:
MAIN PAGE
PRODUCTION | The Paper Problem
OPERATIONS | The Importance of Stewardship in Sustainability
EDITORIAL | Does the World Really Need Another 'Green Issue'?
DISTRIBUTION | Efficiency–And Sustainability–At the Newsstand
EVENTS | How Eco-Friendly Can a Live Event Be?
MARKETING | A Paperless Future?
DIGITAL | Using Digital Editions to Go Green