Glen Giles Murder Suspect Pleads 'Not Guilty'

If convicted, Villalobos could face life in prison.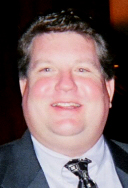 The suspect in the brutal slaying of Hallmark Data Systems executive Glen Giles has pled not guilty to murder charges.
If convicted, the suspect, Jorge Ernesto Villalobos, could face 25 years to life in prison, Burbank, California Police Sergeant Travis Irving tells FOLIO:.
A pre-trial hearing is set for April 8. Villalobos' attorney, H. Russell Halpern, tells FOLIO: that he expects to file for a continuance. Villalobos was arraigned last week in Pasadena (California) Superior Court.
"That's pretty common with murder cases," says Sergeant Irving. "This thing could be continued for a year or more before it gets to trial."
Police said Giles' death was "not a random act," indicating that Villalobos, who is 41 and of San Gabriel, California, was angry over Giles' apparent relationship with a mutual female friend. The 47-year-old Giles [pictured], an influential figure in magazine circulation, was stabbed multiple times sometime Monday night, February 25. His body was found the following morning.
Villalobos is being held on $1 million bail. The investigation is ongoing, Irving says.
Meet the Author
---