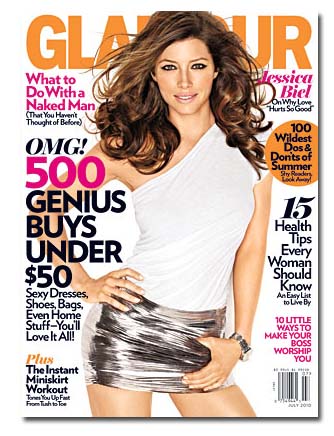 Condé Nast's Glamour announced this week a series of strategic partnerships, each with goals of extending the brand's reach and boosting its revenue.
The magazine has struck a licensing deal with Match.com to create a dating service called Glamour Matchmaker, a dating service featuring men selected specifically by Glamour's staff.
According to WSJ.com, when female users log onto the Glamour Matchmaker page, they'll find specially chosen candidates that are organized by personality types created by the staff. Under the two-year deal, Glamour will take an undisclosed percentage of the revenue from customers who sign up for a Match.com account via Glamour.com.
Dating and relationships is also one of the topics surrounding Glamour's deal with Hyperion. The magazine announced today a partnership with the book publisher, which will begin with three books to be published in 2011 and 2012. The first book, entitled "Engagement Chicken and 99 Other Recipes to Get Everything You Want Out of Life," will be written by Glamour editor-in-chief Cindi Leive and the Glamour team. The title is derived from a Glamour article in which a staffer was proposed to by her boyfriend the week after she used the magazine's recipe for a simple roast chicken.
The other two titles are "Jake's Laws," which will be patterned after the magazine's Jake column, and "30 Things Every Woman Should Have and Should Know By the Time She's 30," which was originally penned by a Glamour columnist and was published in the magazine 13 years ago. Both Hyperion and Glamour will support the books with multi-tiered publicity and marketing campaigns.
And lastly, Glamour will market its own line of jewelry with HSN (formerly known as the Home Shopping Network) beginning in August. New collections will launch quarterly on the network, according to WSJ.com, and most of the items will be under $100.
Glamour was recently crowned Magazine of the Year by the American Society of Magazine Editors. Its ad pages, however, were down 4.9 percent between January and March 2010 compared to the same period the year before.