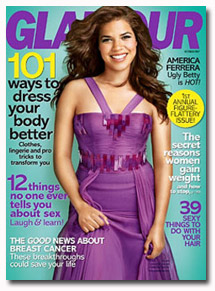 For its June issue, Glamour is doing something it's never done before: a "list." Well, an official, branded list, anyway. Glamour's "50 Most Glamorous" will … well, you get it already.
And why not? Fellow large circulation magazines like People and Time seem to publish a list issue every other month. List issues do historically well at the newsstand. And Glamour, like a lot of titles, has been seeing a decline in single copy sales in the past few years—a 7.8 percent drop between 2005 and 2006 and a 10.3 percent drop from 2006 to 2007.
Last year, People's 100 Most Beautiful issue was ITS second best-selling of the year at 1.79 million, about 25 percent (or 350,000 copies) above the average for the six month period, according to the Audit Bureau of Circulations. The year before, the list issue was the fifth best selling at 1.91 million, 410,000 copies above the six month period average. In 2005, it came in third.
Forbes' 400 Richest People from October 8 was its second best-selling issue as well last year. The list issue reported 90,623 single copy sales—almost 140 percent above the six month period average of 37,837. The year before, the issue came in third for single copy sales, still about 102 percent above the six month period average but beat by two Investment Guide issues done that year.
Oddly enough, the much-hyped Time 100 issue came in 10th last year in single copy sales, about 37 percent below the highest-selling, December 31 issue at 200,315. Still, for a weekly, 10th best isn't that bad, and the list actually seems to be gaining ground—in 2005, it was the 22nd best-selling issue; in 2006, it came in 15th.
But then again, in 2005, the best-selling issue sold 330,733 single copies; in 2006, it was 216,807; last year, it was 124,400. Poor, poor newsweeklies…