After a four-month search for Cindi Leive's successor atop the fashion title she led for 16 years, Condé Nast has named Samantha Barry the new editor-in-chief of Glamour, the publisher announced Monday.
Barry, just the eighth editor in the magazine's 79-year history, arrives from CNN, where she spent the last three years heading the network's social media strategy.
"Sam is Glamour's first digital-native editor which is to say she arrives from the future rather than the past," said Condé Nast artistic director Anna Wintour in a statement announcing the hire, which sends a clear signal about the company's digitally-focused vision for the brand.
The decision to go with an outsider—and one who brings specific expertise in engaging with audiences on social media—ends a period of speculation that began in September when Leive announced her intent to step down from her post, which she had held since 2001, amid a flurry of high-profile departures by major magazine editors including Vanity Fair's Graydon Carter.
Carter's successor, Radhika Jones, was named in November, while the Glamour search wore on. Internally, the odds-on favorite appeared to be Elaine Welteroth, who oversaw Teen Vogue's print-to-digital transition last year.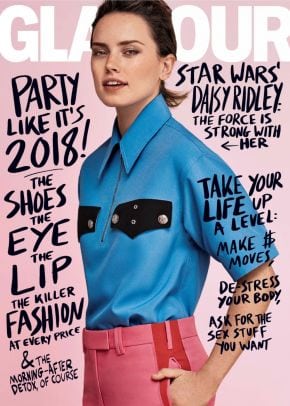 In announcing the appointment, both Wintour and Condé Nast CEO Bob Sauerberg noted Barry's expertise in delivering digital media across various platforms and her unique understanding of social media as a storytelling tool.
"As we continue to innovate our content and distribution to reach next generation audiences, it is critical that our creators understand the symbiotic relationship between the audience, content and the best platforms to deliver each story and experience," added Sauerberg.
Barry's role at CNN involved working across multiple departments to manage all of the organization's social media teams, including their coverage of the 2016 election, for which CNN earned a Webby Award in the social media category.
Added Wintour, "Sam is fearless like so many leaders of the moment and has both a reverence for Glamour's history and a crystal clear view of its future in the digital environment."
A native of Cork, Ireland, Barry arrived at CNN from London, where she was social media producer for BBC World News. Prior to that, Barry worked in Papua New Guinea with the Australian Broadcasting Corporation, served as a foreign correspondent for Ireland's Newstalk, and began her career as a reporter for RTE.
"I am as humbled by Glamour's past as I am excited about Glamour's future," said Barry in a statement. "I could not be more proud to take the reigns of an iconic women's brand at this pivotal moment for all women's voices. For me, Glamour is the home of strong storytellers, insightful journalism, beauty and fashion. I look forward to building on the brand's success, and sharing Glamour with audiences everywhere."
Barry will assume her new role on January 15.
Thank you so much @cindi_leive. I've got impressive shoes to fill. https://t.co/b7fXrC0qek

— Samantha Barry (@samanthabarry) January 8, 2018