Glamour.com Sees Social-Focused Redesign

Rapid social media, mobile growth pushes brand to reinvent itself online.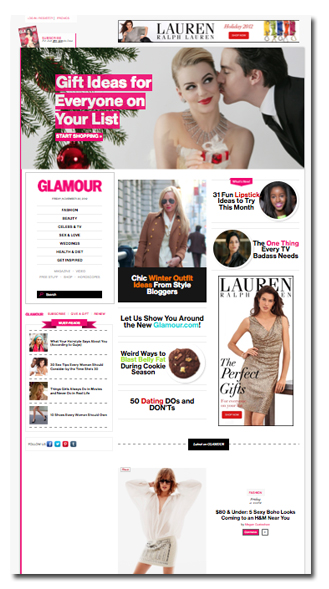 In March, Condé Nast's Glamour magazine reintroduced itself to the world with a redesigned publication. The idea for the redesign, editor-in-chief Cindi Levie told FOLIO: in an interview, came from a need to update the magazine to reflect the desires and personalities of contemporary women.
Now in the digital space the brand is looking to do the same, rolling out its newly redesigned website this week with enhanced functionality and avenues for social engagement—a move the magazine says reflects the desires of its target millennial audience.
"We've seen really rapid growth on social media, both on platforms and as referral traffic back to the site," says Mike Hofman, digital managing director for the brand. "We started to learn things as we tracked more and more of the social media referrals about how completely obsessed with visuals and rich imagery our readers were. We started to get a sense that the way people browse the Web is changing—as we were going into the relaunch, we knew we wanted the site to be way more visual than it had been before."
Hofman says that Glamour.com has almost doubled its online traffic year-over-year, growing to about 5.5 million monthly unique visitors. The brand's total social media footprint has also risen to a total 5 million across the major networking platforms.  Glamour tracks the most shared, commented on or liked pieces of content across their various social media sites and used this information during the planning of its site redesign.
"We wanted everything to be super sharable so that a real sense of community could be fostered by the site," says Hofman. "We see this year and this relaunch as a way to signify that we're a site that competes not just in the magazine category but with digital-native competitors as well."
In addition to social widgets, every image that appears on Glamour.com can be instantly pinned to a Pinterest pin board. Additionally, the brand has begun commissioning original photos, illustrations and infographics specifically for the Web and designed for social media. The site publishes about 70 pieces of new content a day across its seven core channels.
"Rich and luxurious images are so important for us and something the magazine has always done well," says Hofman. "With the refreshing that happened, the visuals in print are so fantastic and dynamic. We wanted to capture that same energy while still being true as a digital product since there are nuances with the two audiences."
SEE ALSO: With Redesign, Glamour Ditches Fashion Title Sameness

While making the website more social was important, Hofman says the digital infrastructure was also refreshed to support the new image-heavy, socially geared site and its growing mobile audience that now represents 25 percent of all website traffic.
"Early on we decided we wanted to do responsive design because our mobile audience is incredibly important to us," he says. "We wanted to focus on the responsive piece because in the past we felt that the mobile experience was not consistent brand wise or design wise with the desktop experience. From a behind the scenes work-flow perspective, if you made a change on the desktop site you had to go in and manually make those changes on our mobile site. Keeping the two in synch was difficult. As the desktop site became more complex the mobile site felt like a lot of mobile sites do—clean and simple with a string of headlines but not much more than that."
Providing a seamless experience between the desktop and mobile phone was one of Glamour's biggest challenges, adds Hofman, who says the site was redesigned with HTML5 to provide a cohesive experience. Additionally, when redesigning the site the brand considered its advertisers—now some ads remain stationary on the site even though a user scrolls, giving partners more exposure.
Stay updated on the latest FOLIO: news, follow us on Facebook & Twitter!
Meet the Author
---