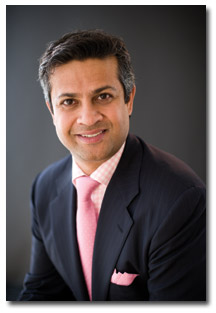 In June 2007, Glam Media, a network of women's fashion and lifestyle sites, passed NBC Universal's iVilliage.com as the highest trafficked online media company targeting women, per ComScore metrics.
The comparison drew the ire of iVillage's president Deborah Fine who stated at the time it's like comparing "apples to cauliflower." Nevertheless, founder and CEO Samir Arora pointed out that ComScore measures them in the same space, an important distinction from the marketer perspective. To get there, Arora has crafted Glam Media as a publisher network that has grown to over 400 independently operated Web sites clustered around 20 "owned and operated" sites, which now attract about 25 million unique visitors monthly and 43.5 million globally, per ComScore, placing it among the top 25 Internet media companies.
It's a strategy that Arora claims traditional publishers have missed out on: Eliminating the "destination site" concept by harnessing the power of a carefully assembled network of independent publishers while simultaneously working the marketing side by creating the ad serving technology that injects large-format and interactive ad units directly into the content that best contextualizes them.
A Package Deal

Glam Media, with offices in San Francisco for technology development and New York for media, officially launched during Fashion Week in New York in fall 2005. Since then the company has attracted over 200 advertisers that have purchased a variety of display and rich media ads that are designed to be as attractive and engaging as the content they're positioned within.
Arora compares the contextual package arrangement to a typical September issue of Vogue. "If you package content and advertising well the ads are not only desirable, they become as important as the content itself. If you're reading a September issue of Vogue, is it for the ads, the content, or both?"
According to Arora, it's both. The fusion of compelling advertising and content is at the center of his company's mission and something where he says traditional media have largely fumbled the ball. "Most of the traditional media companies were having a hard enough time trying to create content for the Internet and when they tried to bring the advertising experience into it they did not know how to translate the full-page glossy ads or full video immersion to the Internet."
Glam's technology division has engineered two technology platforms—one that serves the ads across the network, called Glam Evolution, and one that allows site owners to format and syndicate their content across Glam's various channels. The combination, says Arora, allows Glam to place ads with a high degree of contextual control.
The ad-edit package is something Arora thinks traditional publishers are inherently unable to do, as long as they keep trying to shoehorn content that comes from a strictly print or broadcast heritage. "Content that resembles traditional media—print or broadcast—actually does not perform very well on the Internet," he says. "It's two different things. To engage users on the Internet you have to create highly visual and interactive content.
Glam also produces custom "advertorial" content for its clients, which Arora says accounts for about 20 percent of overall revenues. These products are typically custom packages that include display and rich media ads, as well as interactive elements such as quizzes and microsites. Reebok signed such a deal with Glam in March 2007 for a six-week stretch to promote the launch of Scarlett Johansson's shoe and apparel line.
Revenues from advertisers are shared with the participating network sites, some making in the high six figures.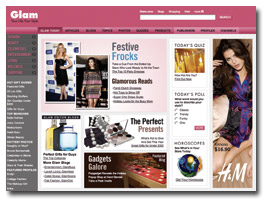 The Network Effect, or Life in the 'Mid-Tail'
At the core of Glam's business model is the network of publishing partners that cluster around the Glam-owned and operated anchor sites that represent each content channel. It's a model that, says Arora, further separates the company from its big media competitors. "It's the recognition that media on the Internet is not following the clustered hits business of traditional media—print or broadcast," he says. "The top 10 magazines have a commanding share of market versus the next 50 or 100. And the same is true in television. On the Internet, this is not the case. For example, Yahoo as a media company has the largest reach of all the Internet, but accounts for 7 to 8 percent of the actual usage of the Web. There are tens of millions of Web properties in the mid-tail."
This "mid tail" is where Glam makes its home—methodically collecting blogs and other independently operated sites and merging them with the Glam publisher network, now numbering over 400 and arranged under a growing number of channels currently including fashion, beauty, shopping, celebrity style, glam living, entertainment and wellness.
The point of an owned and operated site, says Arora, is to act as a gateway, or anchor, for its channel. These sites combine original content with content pulled in from the surrounding partner sites. "It's part of a hub and spoke model for each of the clusters of channels," he says. "That allows us to expose and support each of the publishers at the hub."
It is a model that has some very knowledgeable industry observers excited. "I have been arguing for as long as anyone would listen that the future of media is less about products and more about networks," says media consultant Jeff Jarvis on his Buzzmachine.com blog. "It's nice to be proven right. Glam is also an advertising network that supports the creation of content. That's how you encourage others to produce more. So in the end, Glam is really a platform. That's the key. Glam is a rare example of that and I say other media companies would be wise to follow suit."
Arora says Glam is in a position now where it can select partner sites for the women's fashion and lifestyle channels from a waiting list, a process he likens to curating. "Our editors are both editors and curators. We start by making sure a site is targeted to women, then we look at editorial quality, then how we can package brand advertising with this publisher in a way that will make the ads desirable. What I don't want to do is create a media company where users want to Tivo the ads."
Rapid Growth
Arora declined to specify Glam's revenues, which are based solely on its advertising model. However, a July 2007 story in Forbes reported revenues near $25 million for 2007. A Glam spokesperson declined to comment on that figure.
Sequential quarter-to-quarter growth rates, says Arora, have ranged from a low of 40 percent to a high of 150 percent, and he expected the company to be profitable at the end of 2007. Costs, he says, are generally tied to the sales team, engineering and technology, and the revenue that is shared with the partner sites.
Unique visitors have ballooned from 100,000 per month when the network launched, to 26 million currently. "And we have spent zero dollars on search or keywords to drive customers," says Arora.
If You Can't Beat Glam, Join Glam

The company's rapid growth as attracted its fair share of talent, and from the very sectors with which it is competing. Joe Lagani, former publisher of Conde Nast's House & Garden, joined Glam last October. The magazine promptly closed after he left. John Trimble, who also joined in October, formerly oversaw brand advertising for Fox Interactive's MySpace, IGN, Fox Sports, American Idol, and Scout.
Additionally, Hearst and Lifetime have noticed the value of Glam's network and signed partnership deals to syndicate content. Under the Hearst deal, Marie Claire contributes editorial content in exchange for inbound links to other Hearst magazine brands and subscription promotions. Cosmopolitan arranged to have its advertisers' brands inserted into contextually relevant sites across Glam's publisher network. And Lifetime, the women's basic cable television network, partnered with Glam to create its own channel, essentially a vertical network of Web sites and blogs inside Glam's network.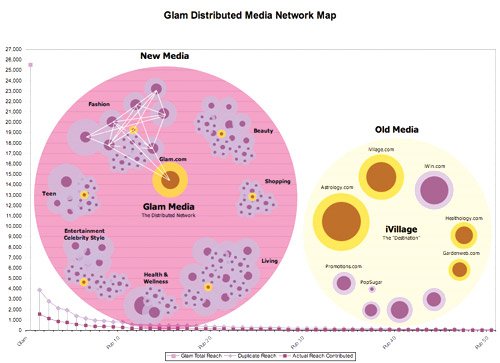 MORE STARTUP STORIES:
Architect
Craft
Internet Evolution
Scientific American
WTWH Media