Glam Media Launches Private Ad-Buying Exchange

Designed to better serve client's programmatic buying needs.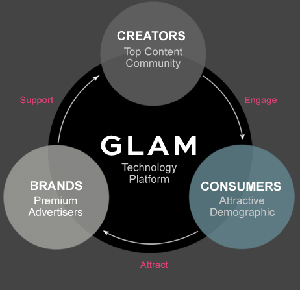 Glam Media's network of sites attracts an average of 244 million global monthly unique users. In order to better assist its advertising clients in reaching these users the company has launched a private ad-buying marketplace powered by Revv Connect, Rubicon Project's real-time trading platform.
"In the last few years, agencies have increased their footprint in programmatic buying—making buys on exchanges and through electronic means as opposed to the traditional model of making specific buys with publishers," says Art Schram, Glam Media's vice president, Adapt Platform. "We saw that trend and the challenge we always had was finding a way to offer up our audience to be easily accessed by our agency partners through their agency trading desks. The technologies that underlay those trading desks and the model of buying didn't allow for any segmentation or differentiation of the supply that was offered. The only thing we'd be able to do is say 'Ok, here are some websites and we'll make them available to you to buy programmatically.' It didn't feel very strategic to us or that it made much sense for Glam to go down that path."
Once Glam saw the trend and realized the marketplace had evolved, the idea for this ad-buying exchange came to fruition. Schram says this new offering to clients makes audiences available to programmatic buyers through the trading desks of agency partners.
"We worked with Rubicon to essentially create a translation layer between all of the attributes, targeting and audience characteristics that we own within our own ad technology called Adapt," he says. "We translate that into a deal ID that can be easily purchased on the demand side. That then allows us to go into a conversation with a brand or agency where we can talk about all the things Glam offers in terms of our different media products. We can also provide them with a way to allocate additional dollars to accessing Glam's supply with specific attributes through their trading desks. That's the core of what this is—accessing a specific Glam audience through programmatic means."
With this technology, Glam is now enabled to markup individual impressions with attributes in real-time through Revv API's. These attributes allow Glam to classify impressions into various inventory segments, execute multiple access, sales and pricing strategies to ensure they are gaining the highest yield possible for their inventory. Through Revv's real-time rules engine, Glam can now make tradeoffs between the direct demand, real-time bidding and the private marketplace.
"We are looking at programmatic buying as a trend and a way that our clients are going to be buying media going forward," adds Schram. "We expect that the same value that we deliver in all of our displays that we use today that we can deliver that value programmatically direct. This is why it's fundamentally key for us to have a private marketplace where all of the inventory attributes and differentiation that exists in our system can be surfaced to that programmatic channel. Without that, the whole thing falls apart."
Stay updated on the latest FOLIO: news, follow us on Facebook & Twitter!
Meet the Author
---