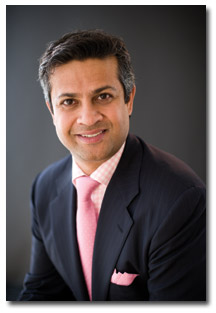 Women's fashion and lifestyle publisher Glam Media announced today the closing of $84.6 million in private financing. The principal backer in the financing round is Hubert Burda Media, an international publisher of more than 260 magazines and an investor in more than 25 digital holdings.
The deal is made up of $64.6 million in funding and $20 million in revenue-based debt financing.
Glam plans to use the funding to continue its global expansion—which begins with the launch of Glam International, rolling out today in the U.K.—into France, Germany and Japan in 2008, and perhaps "India and China shortly," Glam Media chairman and CEO Samir Arora [pictured] tells FOLIO:.
The company also plans to expand its luxury, wellness, and living categories, build an online celebrity style channel, and perhaps add a men's lifestyle channel later in the year, according to Aurora.
The funding is also set to be used for strategic acquisitions in four areas: the international media space, global content anchor properties, networks or media ad-focused companies, and technology providers to help the company "build out [its] ad platform for display, video, targeting and placement," says Arora.
Christiane zu Salm, who will join Hubert Burda Media's executive management board in April, will serve as an observer and advisor on Glam Media's board of directors. Dr. Marcel Reichart, managing director of research and development, marketing and communications at Burda, will oversee the relationship between the two companies.
Other investors for this round include GLG Partners, Duff Ackerman and Goodrich Ventures, and existing investors Accel Partners, Draper Fisher Jurvetson, Walden Ventures and Information Capital. Hercules Technology Growth Capital will provide the debt financing.