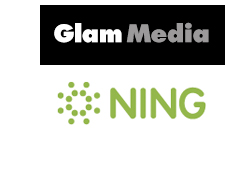 Glam Media, a lifestyle and fashion blog network, has acquired Ning, a platform for building social media communities.
Terms of the deal were not disclosed, but reports are putting the price in the $150 million to $200 million range and mostly in stock.
Ning was founded in 2004 by Marc Andreessen and Gina Bianchini as a platform for creating community-based sites centered around an interest or brand. Folio:'s MediaPro site is one example.
The company has been through some significant shakeups in the last couple years. In April 2010, Ning made news by shuttering its free service, cutting a chunk of its staff and rolling out tiered subscription models: Mini ($2.95/month), Plus ($24.95/month) and Pro ($59.95/month).
Shortly before the switch from free to paid, Ning replaced co-founder and CEO Bianchini with Jason Rosenthal, then COO.
According to the company, the paid model has worked out. In the last year, Ning has gone from 17,000 paying customers to 100,000, with revenues growing 500 percent.
In all, the Ning network has 100 million registered user profiles and pulls 60 million monthly uniques.
Glam plans to incorporate Ning as a new business unit within the company with Rosenthal joining the executive team as executive vice president social media and general manager of Ning.
Glam has always pursued a contextual advertising strategy and with the rise of social media and the marketing opportunities it presents, the company sees an opportunity to advance its social marketing services. "The Ning platform and it Network Creators, combined with the power of Glam's advertising solutions, will ignite the delivery of our Brands+Social integrated programs at significant scale," says Fernando Ruarte, Glam's CTO and EVP platform and products, in a statement.
According to the companies, more than 50 percent of Ning's sites are integrated with the other social media platforms-Facebook, Twitter and Google+.
Andreessen will join Glam's board of directors.
More on the deal from Rosenthal and Andreessen in their blog posts.