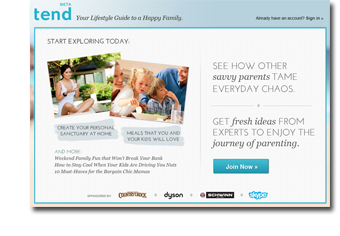 New York—Glam Media, the network of mostly women's fashion and lifestyle blogs, has been using last year's acquisition of community-building platform Ning to create new hybrid social verticals that combine the owned and operated blogs with a community model. Glam's chief digital marketing officer Erin Matts was on hand as the morning keynote at the min Digital Media Summit Tuesday to explain how the company is layering community technology under its content network to create new products.
While the acquisition of Ning brought with it about 100 million registered users and 60 million monthly uniques, Glam has been using the technology to launch new verticals that integrate the social tools of Ning with the content from Glam's contributor network.
Matts explained that a big attraction to doing the deal was the fact that consumer behavior has changed—now there's more personal sharing, topical conversations, realtime information and a culture of engagement and reward driven by gamification. "We knew from our friends at Ning that this technology layered underneath the owned and operated content could create a new kind of experience," she said.
The blog experience, especially within a vertical network, lent itself well to an evolution to a social community model. The first new product to launch based on the Glam/Ning model was Foodie, a community for food and cooking enthusiasts that combines Ning's social profile tools with Glam's content, editorial curation and contributor network.
Foodie, still in beta, launched early this year and users have to register to belong to the community. "The idea of having a sign-in was a little scary, I have to admit," said Matts. "You validate your identity and agree to be a part of this community, but making it a frictionless login was key."
Users can register using their Facebook or Twitter accounts, which, said Matts, has been the most common method so far. Currently, Foodie has about 12 million uniques participating in 48,000 activities and contributing 2,500 unique recipes, said Matts.
Tend, a parenting community, launched in April. The model for both sites moves users through registration to profile creation and then content sharing. Influential bloggers and other personalities seed the community and Glam editors curate specific content across the network.
Glam has developed a social ranking system to drive more participation from community members, Matts said. Members can elevate their status within the community the more often they post. Achieving "editor" status, for example, unlocks richer content tools and features. 
All of the user contributed content is fed into a back-end queue where editors can resurface it elsewhere in the community network if it's high quality, said Matts. Likewise, bloggers within the broader Glam network will soon be able to share content from Foodie and Tend as well. "It's a self perpetuating publishing model," said Matts.