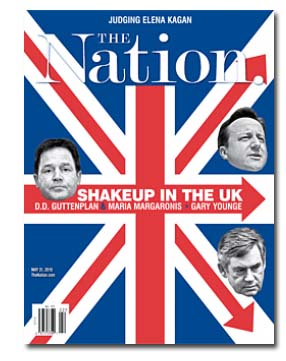 $40 would buy a pizza and a cheap bottle of wine for me to share with my girlfriend.
$150 would buy a bigger LCD monitor for our new Canon HD videocam.
$300 would buy the roundtrip airfare I recently booked to Puerto Rico (I found a great deal).
$850 would set me up for a good weekend at the casino.
Wishing people would donate money to me? Priceless.
OK, enough about me. The Nation apparently is having a rough go in this "hostile" publishing environment. According to a note from Washington editor Christopher Hayes, the left-leaning political magazine has a $1 million deficit and needs your financial help! (According to its Web site, at least $500,000 of that is from postal rate hikes, thanks in part to "Time Warner lobbyists.")
The magazine often relies on donations and has set up an "Associates" donation group with special membership benefits, like discussion groups and members-only monthly conference calls, depending on how much you fork over. In fact, Hayes says donations make up more than 20 percent of The Nation's revenues.
And if you really want to know what your hard-earned donation dollars go to, Hayes is upfront about how it helps:
$35 buys me dinner with a confidential source in New York
$75 pays for an interpreter for a reporter researching a story in Afghanistan
$150 covers an Amtrak ticket to Washington so a writer can testify before Congress
$300 buys a labor reporter's ticket to Detroit for a piece on unemployment
$500 (expenses extra) rewards a brilliant article by a young journalist on Tehran dissidents
Click here to make a donation to The Nation. I'll let you know when I get the donation form up for that casino weekend I've been dreaming about.