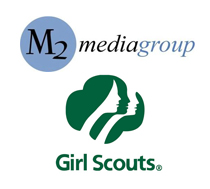 When Girl Scout troops knock on your door this year, they may have more than just cookies for sale.
Magazine subscription agency M2 Media Group has entered into a licensing agreement with Girl Scouts of the United States of America to provide a new product sales program opportunity for Girl Scout councils nationwide. M2 will partner with local Girl Scout councils to provide members the opportunity to sell magazines and digital subscriptions, utilizing both an online marketplace and face-to-face sales.
"Girl Scouts sell products to raise money. Obviously, the cookie sale is one of the biggest and most beloved fundraising programs in the world," says Michael Donnarumma, vice president of sales at M2. "But Girl Scouts can now participate in magazine fundraising sales, selling to friends and family to raise money for their troops."
Donnarumma says when the Girl Scouts' season starts in the fall—about four months before cookie sales launch—there is a great deal of money needed to get programs running. With this opt-in program, troops will now be able to sell magazines at the beginning of their season to generate start-up funds for their upcoming meetings, allowing local Girl Scout councils to generate additional revenue before the cookie-selling season.
"We've created an online marketing program to do it in a simplistic way using the Internet," he says. "Going door-to-door is something the Girl Scouts are cautious of in this day-and-age, which is the reason we're utilizing technology as a method to connect with lots of people in a safe way. We're putting together an online and landed catalog so the girls will have collateral material to sell subscriptions to family members and friends."
Cookie-selling door-to-door is on the decline due to safety concerns, though some Girl Scouts do still participate in the old tradition when accompanied by their parents or other chaperone. There are 3.2 million Girl Scouts—about 2.3 million girl members and around 890,000 adult members working primarily as volunteers.
In order to work with Girl Scouts of the USA, a company must be a licensed and approved vendor by the organization. There are 112 Girl Scout councils across the country and M2 will work with each interested council individually. Once a council is committed, all local troops within a council can participate if they choose to. 
M2 Media Group offers over 1,000 magazine titles through its direct-to-publisher supply network and Donnarumma expects the "full suite of titles" to be available, though the company is still finalizing the details.
"Publishers will work with us to authorize us to carry their titles in this program," he says. "Once the store is built with all the authorizations, we'll have online and landed versions for girls to sell. We're going to create specific online sites for each of the councils. This way we'll have the ability to track by troop and council—as part of Girl Scouts, each troop gets a portion of the proceeds to keep and we also work on rewards for the girls' efforts with patches and other things."
While publishers will be able to determine pricing for these subscriptions, Donnarumma says the rule of thumb will be the standard subscription price currently offered, though the opportunity to bundle subscriptions with other titles at a special price will be available. When it comes to the revenue share, Donnarumma says the Girl Scouts will receive the "greatest portion," with the remainder to be split between M2 and publishers.
Stay updated on the latest FOLIO: news, follow us on Facebook & Twitter!