Gina Sanders

President and CEO, Fairchild Fashion Media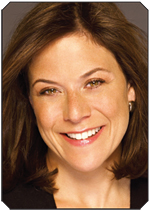 Since taking on the role of president and CEO of Fairchild Fashion Media group in 2010, Gina Sanders has expanded and rebranded all of the properties in the company's stable.
To gauge the success of Fairchild Fashion Media (FFM), Gina Sanders tracks an untraditional economic indicator–fun. Sanders states, "If you are doing well then you are having fun, and if you are having fun, then likely, you are doing well." Couple this philosophy with Sanders growing the bottom line by 78 percent in her first two years as president and CEO, and one thing becomes abundantly clear—Gina Sanders is having fun.
It's not merely about good times at FFM however, Sanders is serious in her pursuit to grow the company's advertising and user generated revenues. FFM introduced bundled subscriptions that enable customers to access content across a number of platforms. Sanders is also serious about growing the company's global footprint. In 2010 FFM acquired Style.com, an award-winning website that caters to the global fashion industry. Additionally, she has lead in rebranding all of the FFM properties with hope to reach new audiences around the world.
Sanders oversees both the editorial and publishing aspects of FFM's brands. She pledges that content is elemental in what FFM produces, and must be generated "with the user in mind." In 2011 Style.com expanded to provide a Web-to-print magazine offering a first look at seasonal fashion collections. The publication is untraditional in the sense that it is Web-to-print, but for Sanders, untraditional is part of her approach "I relish discomfort and the unknown, and sometimes rely on counter-intuitiveness." The print edition of Style.com is expected to expand circulation by 20 percent, and will publish two issues in 2012.
Sanders emphasizes crediting her staff as contributors of her success, and also credits her ability to find the balance between "tactical and strategic" solutions. She understands that her role at FFM carries a legacy, and embraces it "I love this, Fairchild is where I have always wanted to be."
VITAL STATS: Since 2010 the company's bottom line has increased by 78 percent. Introduced Style.com and Style.com/print, which expects to increase circulation by 20 percent in 2012.
Meet the Author
---