Editor's Note: This story originally appears on FOLIO: sister site minonline.com.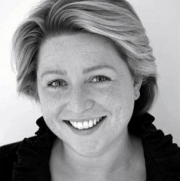 On Wednesday (Jan. 16), Condé Nast president (since July 2010) Bob Sauerberg announced a restructuring of the 12-year-old Lucky. What originally was a monthly for women's "brick and mortar" shopping is being expanded with a greater emphasis on e-commerce, which is getting a new platform.
The print edition and website (luckymag.com) are continuing.
The architect is Gillian Gorman Round (pictured), who moves from CN senior VP/brand development (a corporate job) to the new position of Lucky general manager. Round being in charge of all Lucky's business and editorial functions means that editor-in-chief (since Sept. 2010) Brandon Holley is reporting to her.
Round is also assuming the responsibilities of Lucky VP/publisher Marcy Bloom, who leaves 16 months after being promoted from Gentlemen's Quarterly associate publisher. Lucky's 894 ad pages in 2012 continued a downward spiral since 2008 when it carried 1,697.
Bloom's immediate plans, minonline is told, are to do volunteer work with children in Ghana. She is known to be well-liked at CN.
Here is min digital media editor Steve Smith's assessment of Lucky 's planned transformation:
Lucky has the challenge of a relatively modest online audience (under 800,000 unique visitors in Sept. 2012 per min's digital boxscores). Because they see themselves as a shopper's companion anyway, my guess is they will want or need to pursue some form of deep integration of e-commerce with online content.

Allure's Beauty Product Finder at its site helps women find and buy the right products for them, and it has a persistent presence on the sites. The products are all curated and reviewed by editors. ShowBazaar from Harper's Bazaar also lets people shop looks from the magazine and then get flipped over into even more opportunities online.
Even if advertisers are losing their faith in the efficacy of advertising in print to drive sales, magazines need to prove that they do in fact sell the goods. Not only does this give them a new revenue stream, but it also gives them important data about how the editorial side impacts the business side and how consumers really do move from inspiration to purchase.
They also have experimented with a Lucky Shopper app that helps women at the retail venue find more information about products. I wouldn't be surprised if their plans also entail an aggressive use of mobile to make Lucky into a literal shopping companion offline as well.