Gilbane Study: Digital Magazines Post Rapid Reader Growth Yet Market Penetration Slips

Rich media and archiving will be keys to future growth.
Digital magazine usage is soaring among b-to-b readers but hasn't sustained a similar pace with consumers, despite a steady increase in the number of consumer readers, according to "Digital Magazine and Newspaper Editions," conducted by the Gilbane Group.
The study found there are more than 3,200 digital magazines today—b-to-b and consumer combined—with more than 13 million subscriptions, up more than 260 percent from 2005. However, against the total population of magazines, the penetration rate over the two-year period declined slightly from 3.3 percent to 3.2 percent.
The study says the percentage of digital subscribers grows by about two percentage points (from 13.3 percent in 2005 to 15 percent in 2007). While the study found there were actually more digital publications on the consumer side in 2005 (632 versus 556 for b-to-b), the growth for b-to-b has since eclipsed the consumer side. In 2007, there were 1,816 digital magazines, compared to 1,470 for consumer, and 7.8 million b-to-b subscribers (up 315 percent), compared to 5.6 million consumer subscribers.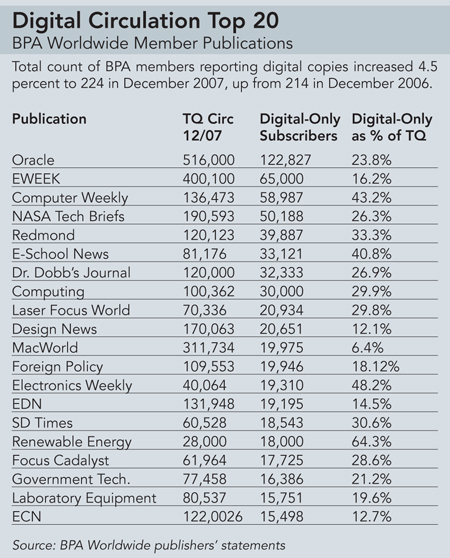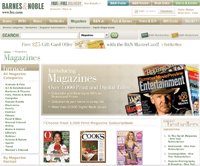 Is Digital Now Worth More than Print?
Last month Barnes & Noble announced it would start selling magazine subscriptions online at steep discounts for more than 1,000 print and digital titles. Print subscription prices range from as low as $5.99 (Batanga) to $299 (Adweek). Digital subscriptions range from $1.56 (24-K) to $1,372 (Jane's Defense Weekly). Single digital issues range from $0.99 to $99.
While the retailer scoffed at the idea it would be competing with discount subscription sellers (a stance not believed by some industry observers), the site is charging more for some digital subscriptions than it is in print. A year's subscription to Men's Health is priced at $24.95, 44 percent off its $45 cover price; a digital subscription to Men's Health sells for $24.97.
Some of the digital copies BN.com is selling are closer to their original cover prices. Barnes & Noble says digital magazine vendor Zinio and M2, its print fulfillment provider, are responsible for the prices. Zinio says it's the publishers who name the price but defends the functionality of digital editions as worth the higher price. "While the price of a digital issue is generally less than its print counterpart, for many consumers, both domestically and internationally, the ability to find an issue or title, read online or offline, search, archive and digitally share content with others is a meaningful value proposition—let alone the environmental benefits of going digital," says Adam Kadleck, Zinio's director of customer service.
Still, the report says the rapid growth of b-to-c digital titles may actually limit adoption for now. "Rapid growth in publications can actually depress overall adoption rates in the short term," according to the report.
The Gilbane Group predicts the total number of digital subscriptions to grow to 8,000 by the end of 2009 while the number of digital subscriptions will soar to 31.5 million. However, publishers need to continue to push interactive features—rich media, archiving and searchability.
Meet the Author
---