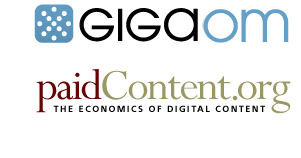 GigaOm, the online media and events company targeting the tech market, has bought ContentNext Media, which includes digital media news site paidContent.org and related brands, from Guardian News & Media Limited.
Terms of the deal were not disclosed; Guardian News & Media put the company on the block in November 2011.
ContentNext Media also runs MocoNews.net, contentSutra and PaidContent:UK as well as a group of events. Its founder Rafat Ali, who is on GigOm's advisory board, departed the company two years after he sold it to Guardian News & Media in 2008.
The staff will remain intact, says GigaOm founder Om Malik in a post about the deal, with Staci Kramer retaining her top editor spot at paidContent. ContentNext executive editor Ernie Sander will become executive editor of GigaOm's network. GigaOm managing editor Nicole Solis will be promoted to VP of editorial operations.
Along with the deal, Guardian News & Media is taking a minority stake in GigaOm, joining existing backers Reed Elsevier Ventures, Alloy Ventures and True Ventures.
Malik adds that paidContent will effectively become GigaOm East, adding a much-needed Manhattan presence, along with coverage in Boston and Washington, DC.
"There are old companies that are dying and new ones that are being invented," says Malik. "We're eager to expand our coverage of social and digital media editorially, in our research and at our events. paidContent is the best chronicler of the media industry, and by blending their coverage with ours, we hope to watch this fast-changing industry ever more closely."