Getting Out of the Magazine Site Ghetto

Page view strategies for those of you without Lindsay Lohan photos.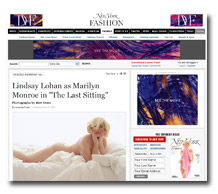 Quote from a media reporter at lunch last week: "Every
magazine tells me great things about their Web strategy, then I go back to
check their Nielsen traffic and they're too small to be measured."
If you believe the trade magazine box scores, online traffic was a rare Q4
bright spot for magazines last week in a month of mostly bad industry news
(newsstand
and advertising are down, paper prices keep going up.)
The fact remains however that unless you have swimsuit models or Lindsay
Lohan, your magazine site is still sitting below 100 million (and probably 10
million) monthly page views level.
Magazine sites have grown in the past few years by executing
against the basics-unique online content updated multiple times per day, blogs,
photo galleries, video, podcasts, user-generated content, etc. At this point, though, those features are
just the price of admission. The challenge for publishers now is to take a step
up out of the magazine site ghetto into competition with the real Internet
players.
A typically brief and unscientific survey shows reveals two
emerging trends and one time-tested winner among strategies for putting the M back
into CPM:
Social Networking. Fast
Company is making a notable attempt to supercharge its user profiles into a full-blown social networking site. Though not a consumer site, Variety is also trying its hand at
being Facebook-ish.
Blogification. Several sites are jettisoning old-fashioned
magazine navigation in favor of a stripped-down blog approach, a la Boing Boing or Gawker.
The best example of this is the new PopSci.com-but I'll be damned if I'm
going to link to those guys-so I give you ReadyMade
magazine.
Recipes. Not as sexy as social networking or blogs, but a
proven strategy built on the original user generated content play. Reader's Digest's AllRecipes.com gets 30 times the page
views of rd.com. BHG.com is
also above 100 million page views. Epicurious and MarthaStewart.com are also in the
topmost tier of magazine sites.
So there you have it.
Social networks and blogs are sexy, but apparently not as sexy as a good
ratatouille. Now if only I could think of some
science-related menus for Discover.
Meet the Author
---