Gerald "Butch" Boettcher

President | Kalmbach Publishing Co.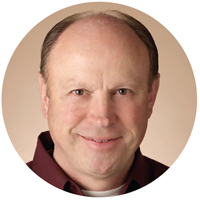 Gerald "Butch" Boettcher, President of Kalmbach Publishing Co., which is celebrating its 75th anniversary this year, has a quick response when asked about the company's secret to longevity—particularly at a time when media properties are dropping left and right.
"Our foundation has always been the reader, and the loyalty factor. Once you look to the reader, you have consistency on how to run your business models," says Boettcher, who joined Kalmbach in 1990 as VP of finance. He adds that he also takes pains to cultivate the company's "endemic" advertisers and doesn't stray very far from the core. "Lines get a little blurred, but [we make sure the message] better be important to leisure time."
Kalmbach's 15 special-interest magazines run the gamut. Titles range from Model Railroader to FineScale Modeler to newer titles such as Art Jewelry, which launched in 2004. Total circulation is 1 million-plus. Despite the downward economy, Boettcher says he continues to look at properties targeting the how-to and hobbyist crowds. The company each year also publishes 35 books and participates in more than 300 events tied to their core markets.
Kalmbach currently has 38 Web sites, compared with 30 in 2007, and 18 e-newsletters (of varying frequencies). Indeed, Boettcher hasn't let the company's age to get in the way of embracing the latest technologies that are designed to grow audiences online, such as blogs, video and social networking.
"We connect circles of friends," Boettcher says. Pre-Web, "we helped hobbyists who wanted to get together at clubs and special events. Online the elements are all the same: connecting people with common social interests who want to have fun."
In 2008, registered users across Kalmbach's (15) consumer Web sites grew 29 percent compared with 2007. E-mail opt-ins jumped 42 percent during the same period. "Social networking is what we felt we've always been doing with our print publications," Boettcher says.
Vital Stats: In 2008, Kalmbach generated more than $50 million in sales for the sixth year in a row.
Meet the Author
---