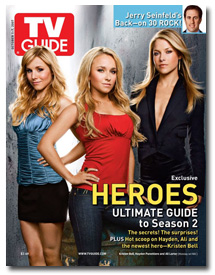 UPDATE: TV Guide Slashes Jobs Following Merger Approval
Gemstar-TV Guide announced today that its stockholders have approved the company's proposed merger with Macrovision Corporation, the Santa Clara, California-based digital software solutions firm that agreed last December to acquire Gemstar for $2.8 billion in cash and stock.
The merger is expected to take effect May 2.
The transaction had been pending shareholder approval since December when Gemstar's board unanimously approved the transaction and Rupert Murdoch's News Corp., which owns 41 percent of Gemstar, also agreed to the deal.
In January, there was serious speculation that some stockholders would vote against the deal. On Monday, shares of Gemstar-TV Guide hit a 13-month-low of $4.04 per share.
What's Next?
For Macrovision, the question now becomes what to do with TV Guide's publishing business, including its 3.2 million circulation flagship magazine.
During a conference call the morning of the sale announcement, Macrovision CEO Fred Amoroso said he would need time to study that part of the company before disclosing his plans for the magazine. "I don't have a deep background in that area," Amoroso said.
The indication now is that Macrovision intends to find a buyer for the publishing business, including TV Guide, and its cable assets. It's unclear, however, whether TV Guide's online arm, including TVGuide.com and jumptheshark.com, would be included in any deal.