Gawker Media Overhauls Website (Again)

New design aims to leverage advertising and enhance content navigation.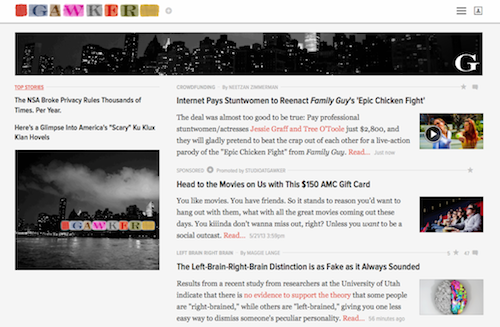 Redesigns are becoming a big part of Gawker Media's DNA, as this week, the company rolled out its second of 2013.
Since 2011, Gawker has been testing a number of ways to enhance content navigation and promote advertising engagement. And earlier this year, in line with its Kinja blog and commenting platform rollout, Gawker introduced an image-centric page. However, the newest design has reduced the lead image size, and has pivoted to a more content-dense experience.
Nick Denton, CEO and founder of Gawker Media, says that the redesign had been in the works throughout the year, and some of this design was already rolled out on two of its verticals. He also assured his employees that this would be the major change until the close of 2014.
Here is Denton's letter to his staff that explains the newest features and the rationale behind the redesign:
From: Nick Denton

To: The Staff

Subject: 2014 template

Congratulations to all – especially Tom, Etele, Joco, Lauren, Diego and the others in the product team on this project. And to those in Sales who have navigated clients through the transition. (Seems very smooth so far, partly because the ad units remain much the same.)

This version brings back one of the most popular features of the 2011 design, the persistent list of headlines. That will encourage more circulation from post to post without requiring readers to always go back to the front page. (They are more likely just to click away.)

The sidebar headlines, more moderate images and the inclusion of related links on all stories: together this makes for a denser page. Readers have more options and are more likely to see something that grabs their eye.

All sites on the Kinja platform are also now able to republish external stories with their own introduction. That will help with repurposing stories from other Gawker Media sites, from satellite Kinja blogs and from the archives. This is what front.kinja.com has been testing the last few weeks. The functionality is now universal.

Plenty remains to be done. For example, image annotation may be a couple more days. But the system will apply to every large image in a post, not just the lead image. There are sure to be bugs. Please send in any you notice to [internal bugs email]. And we intend to make more use of any space to the right of the content column, for additional related items on the front and for annotations on inside pages.

However, the most important feature of this template is that – after some tricky balancing between user and advertiser needs – it's done. This template will last us, with minor modifications, through to the end of 2014.

Once we're through the fixes, we'll be able to focus better on further improving the discussion interface. That's our top priority. More (rather exciting) news on that soon.
What isn't new here for Gawker is the negative reaction it is already receiving from its readers in response to the redesign. Many have been quite vocal on the company's Kinja commenting platform about their disdain for the latest update. However, the friction between Gawker and its readers has become a defining characteristic of the brand's identity, so it shouldn't be cause for concern just yet.
Meet the Author
---