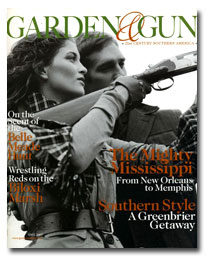 Two months after its publisher pulled out of a five-year agreement with the magazine, Garden & Gun has been acquired by Indigo Acquisition LLC—a company co-created by publisher Rebecca Darwin—effectively saving the high-end Southern lifestyle title from going out of business.
Darwin is joined by Evening Post Publishers Co. chairman Pierre Manigault in Indigo Acquisition, and the purchase of a majority stake in Garden & Gun. Financial terms of the deal were not disclosed.  
In January, the Evening Post Publishers Co., a newspaper company that had been publishing Garden & Gun, said it would end its agreement with the Charleston, South Carolina-based magazine effective January 31. Since then, the magazine had been "actively engaged in discussions with investors" to find a way to continue publishing the magazine.
"We were determined to keep the magazine in Charleston and to keep the special dynamics of the team we had put in place in tact, and we're thrilled with this resolution," Darwin said in a statement.
Launched in 2007, Garden & Gun carries a total circulation of 220,000, including 160,000 paid subscribers. According to Darwin, the magazine saw ad revenue increase 230 percent in 2008.