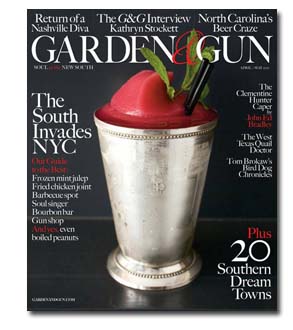 Recently, the National Rifle Association's member magazine America's First Freedom took Garden & Gun to task for not accepting an ad from the organization. The NRA claimed it was a politically-motivated decision that doesn't stand up for a demographic Garden & Gun claims to serve. According to Garden & Gun, the magazine has a policy of not accepting political ads of any stripe.
"We regret that they chose to write about us without checking their sources with us and were disappointed by their decision to criticize us for refusing their ad without having their facts correct," president and CEO Rebecca Darwin tells me. "From the beginning, we've had a policy of not accepting any political or advocacy advertisement, and in our view this ad fell into that category. The idea that this was controversial is taken out of context as we are, in fact, members of the NRA and clearly run favorable ads of guns and hunting in every issue."
Politicians-in-running aren't the only ones who have learned to step lightly around the NRA. Three years ago, Outdoor Life hunting editor Jim Zumbo took a swipe at ownership of so-called "assault rifles" in a blog. The post generated more than 2,000 comments, most of them negative. Hunting and shooting chat rooms buzzed all over the Internet. The post was made on a Friday evening, and by Sunday afternoon, Zumbo had posted an apology. Unfortunately for Zumbo, the damage was done. His TV show, "Jim Zumbo Outdoors" on the Outdoor Channel, was put on permanent hiatus. His longtime corporate sponsor, Remington Arms Co., dropped their relationship with him. And Outdoor Life, pressured by advertisers and readers alike, accepted Zumbo's resignation.
This time however, the shooting community is much more muted in its reaction, and even supportive of Garden & Gun. "I can understand why no NRA," wrote one poster on shooting enthusiast board Sigforum.com. "When the NRA was more about hunting, okay. But now, I think there is too much stuff about guns in general, and people's perception of the NRA. I'd love to hear their side of it."
"Garden & Gun is hands down one of the best magazines I have ever come across," wrote another poster. "Great articles, flat out amazing photography, the issue itself is pretty much a work of art. All my other magazines go straight to the recycling bin if they don't have something specific I want to keep. G&G on the other hand I have every issue and keep them nice."
That's high praise from a community known both for trashing the quality of magazines dedicated to its sport and for turning instantly on any individual or product that doesn't share its political leanings.
The last year has been a whirlwind for Garden & Gun, from rumors of being on the verge of running out of money to the magazine's acquisition by Indigo Acquisitions LLC, a company co-created by Darwin, to skipping the October/November issue to things starting to turn around with an Ellie nomination this year for general excellence and a bump in advertising revenue.
"We do feel a rebound in our business and in the advertising community overall so that is exciting for all of us in this game," says Darwin. "And, of course, our Garden & Gun Club is celebrating its first anniversary and has been a very successful addition to our business and our brand."