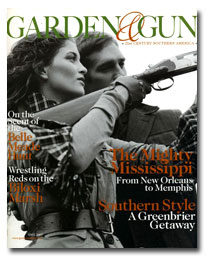 UPDATE: Garden & Gun Saved
Garden & Gun, a high-end Southern lifestyle magazine that launched in April 2007, faces going out of business if it doesn't get a cash infusion—quick.
"We are considering several options and will make an announcement at the appropriate time," president and publisher Rebecca Darwin wrote in an e-mail to FOLIO:.
Darwin told Mediabistro's Fishbowl NY last week that Evening Post Publishers Co., a newspaper company that had been publishing Garden & Gun, would cease its five-year agreement with the magazine, effective January 31. As a result, the Charleston, South Carolina-based magazine is "actively engaged in discussion with investors" to find a way to continue publishing the magazine.
Garden & Gun's February/March issue ships this week. With negotiations ongoing, the sales team is continuing to work on the April/May issue, Darwin wrote in the e-mail.
According to Mediabistro, Evening Post Publishers' decision to stop publishing Garden & Gun "had more to do with the dire economic situation surrounding the newspaper world than with the magazine's success."
In fact, according to Darwin, Garden & Gun saw ad revenue soar 230 percent in 2008 compared to 2007. Late last year the magazine said it was cranking up its rate base from 150,000 to 200,000 in 2009 and increasing frequency from seven to eight times per year.