Rebecca Wesson Darwin went back home to the South to launch Garden & Gun after a successful career in publishing in New York, but things didn't go quite as planned at the start. However, she led the young title through the recession without compromising quality and the brand came out a stronger for it.
Here, Folio: talks to Darwin, president and CEO of Garden & Gun's parent company and a Folio: Top Women honoree, about where the magazine came from, where it's going next and how other women in media can succeed.
…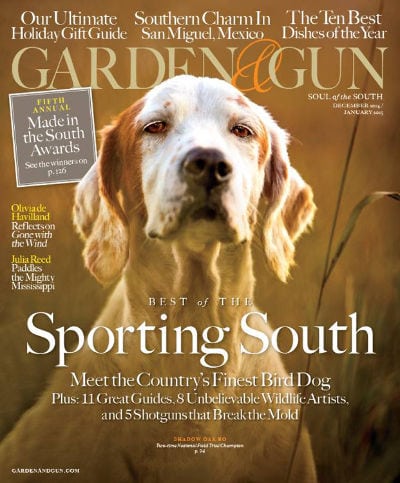 Folio: You launched Garden & Gun in 2007, right before both the ad landscape and reader consumption habits started to shift dramatically—how did you keep the publication in line with those rapidly changing market trends from the beginning?
Rebecca Wesson Darwin: In hindsight, I think one would not launch a magazine at that time if they'd known what was ahead. But it turned out to be a good thing for us. It made us come through stronger.
More specifically to your question though, Garden & Gun has been a classic magazine from the beginning. It's full of incredible writing, beautiful photography and the best paper one could imagine—during those lean times, it was challenging to keep those elements alive and not let our quality slip.
We've also been attuned to the trends and people's changing consumption patterns of media right from the beginning. We set out with a pretty strong Web strategy, and found a lot of success with our email newsletters which drive a lot of traffic. Again though, our newsletters are written with the same quality and the same amount of thought into them as anything that goes into our magazine.
With our digital editions, we took our time in launching—we sat back and watched as other people figured out what was working because we weren't in a position to just throw money at something. It really paid off for us. We've been nominated in the National Magazine Awards for best digital edition in the last two years since we launched it.
Folio: As you say, quality is a big focus for the magazine, but what did you do to maintain that level of production while going through those lean times?
Darwin: Having started the magazine and being one of the owners, I spent a lot of time trying to dig up money from underneath a stone. But I'm so grateful we weren't part of some big publishing company at the time. If we had been, the immediate decision would have been to cut the trim size, downgrade the paper, cut the edit-to-ad ratio—all those little places we could have saved money.
We didn't do that. We worked with our writers, explained to them that they would be paid, even if it wasn't immediately; worked with our staff to take pay cuts for an interim period, with the promise that if we got through it, there'd be a reward on the other end.
And we were very honest with our readers. We actually had to skip an issue. When magazines were closing left and right, I decided that I'd rather take a breath and come back than just totally disappear. So I wrote a letter to our readers explaining why we had to do it and I couldn't believe the outpouring of support we received.
Folio: Now on the other side of those tough times, you've expanded the brand beyond traditional media and into areas like events and ecommerce—what are some of the challenges that come with getting into a new line of business like that?
Darwin: We're a growing company, but we're conservative and launched with a staff of probably one-tenth of what some of the other company's I'd worked for would have put toward a launch. So we're cautious when we try things. We don't go out and hire a whole team; most of our ancillary projects have been done with existing staff.
Of course we don't want to lose money, but some of our ventures aren't necessarily completely reliant on how much they add to the bottom line. A lot of them are enhancing the brand and the experience the reader has with the magazine. Because we do only come out six times a year, it's really important for them to have other touchpoints with us throughout the year.
From the beginning, the most important thing has been finding the right talent. I think I support a culture of creativity and we focus a lot on what we want to do next. Then we put some meat on those bones and see if there's a real business there. For example, we're doing our first SIP this year. So we're always out there testing to see if there are things we can do within our brand identity and expertise.
Folio: What advice would you give to women looking to advance their careers in media?
Darwin: The business has certainly changed from when I started and there weren't a lot of women. Man or woman though, I've always just said to do your personal best. Don't get hung up on the fact that you're a woman so you have to do something specific to compensate for that.
A little Southern charm can go a long way too.