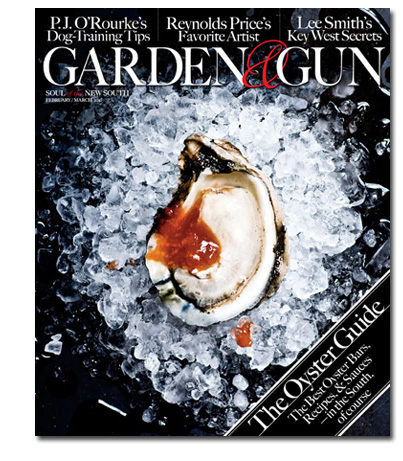 The last several months have been a whirlwind for high-end Southern lifestyle magazine Garden & Gun. Early last year, rumors swirled that the magazine was on course to run out of money and go out of business. Less than two months later, it was acquired by Indigo Acquisition LLC, a company co-created by publisher Rebecca Darwin—effectively tossing the title a lifeline and saving it from going out of business. Then this past fall, Darwin and her team made the tough decision to skip the October/November issue due to financial constraints.
Today, the title has returned to its regular distribution cycle, and has an important editorial achievement under its belt. Garden & Gun has been nominated for a general excellence Ellie award by the American Society of Magazine Editors for magazines with circulation between 100,000 and 250,000.
It's the first time Garden & Gun has been nominated for an Ellie (last year was the first time it became eligible). It's up against some stiff competition in its category, including Foreign Policy, Martha Stewart Weddings, Mother Jones and Paste.
Here, FOLIO: spoke with Garden & Gun top editor Sid Evans about the nomination and what it takes to manage the editorial operation of a magazine at the confluence of all things guns and gardens.
FOLIO:: Congratulations on the nomination. How did you react when you found out Garden & Gun was nominated?
Evans: We had some champagne and orange juice in the fridge (doesn't every magazine?), so we toasted with mimosas. Then we took the crew out that night for steamed oysters.
FOLIO:: You've been nominated for several issues. Why did you submit those particular issues? What was the most compelling editorial component among them?
Evans: I think the judges look for consistency, plus a few standout pieces that knock your socks off. They want to be wowed, surprised, transported. We had a terrific piece about a croquet player that you would never expect, and another about a guy who had devoted his life to carnivorous plants. You want the judges to keep peeling the onion and find layer after layer of great content, not to mention terrific photography and design.
FOLIO:: You're up against some stiff competition in your category. How do you think you stack up? Does Garden & Gun have a chance?
Evans: Oh, we stack up all right. I can't read the tea leaves and tell you what will happen, but I like our chances. If you just look at the pure craft of the magazine, the quality of the edit, and the way we deliver on our mission, I think we stack up against the best in the business.
FOLIO:: Gardens. Guns. It would seem that your magazine caters to two very different passions. Are they really that different? What is the biggest challenge in managing an editorial brand like this?
Evans: I like to think of our title as a metaphor for the land and the sporting life, two big components of Southern culture. It's also a reference to our dual audience, which is 50/50 male/female. Beyond that, I see anything that pertains to Southern culture as fair game.  
The challenge is getting the mix right, and selecting stories that will surprise and delight a very smart and passionate audience. Every page counts.
FOLIO:: How, if at all, has the editorial process changed under Indigo? Is your budget any different?
Evans: Our editorial process hasn't changed at all, but like everyone else we are doing more with less. The trick is to never let your budget determine your ambition. If anything we've gotten more aggressive, more creative, and more innovative as a result of a very tough 2009.
FOLIO:: What's the coolest gun you've ever fired?
Evans: Probably a 14-gauge muzzleloader that dated back to the late 1800s.
FOLIO:: You're not going to bring it to the awards ceremony, are you?
Evans: Okay, here we go.
FOLIO:: No gardening sheers either, right?
Evans: Keep on going. I promise you I've heard them all before.
FOLIO:: The business of magazine publishing is evolving and is making some serious steps in the digital realm. How is Garden & Gun taking advantage of the emerging publishing technologies/platforms?
Evans: We see huge opportunities there like everyone else. Online we've done especially well with our opt-in newsletters (like Talk of the South). Clearly everything will be mobile, and when you're dealing with a high-end demographic like ours, that presents enormous opportunities. We also cover subjects that make for great video content—imagine the road trips, the barbecue joints, the Southern artists, the blues musicians—so we're working on ideas for the iPad and other devices that would bring our brand to life in new ways. We've also launched the Garden & Gun Club, Garden & Gun Auctions, and a Garden & Gun Store, all of which will be key components of our digital strategy.
FOLIO:: Will Garden & Gun exist in print in five years?
Evans: Absolutely. The main reasons being that we have an extremely passionate audience, a totally unique product, and an endless well of stories to cover. I also think that magazines with high production values and high demos are well positioned for the future. The experience of reading, holding, and looking at G&G in print cannot be replicated online, and the environment we create in print is too valuable to both readers and advertisers. Just ask the 9,000 fans on our Facebook page.