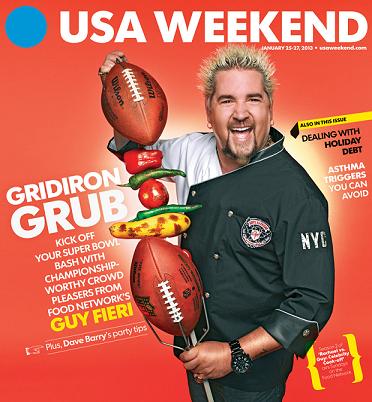 Gannett announced that it's shutting down its weekend magazine, USA Weekend, effective Dec. 28.
About 30 staffers will be let go as a result, according to multiple reports.
The move comes a year after Gannett began distributing condensed "butterfly" editions of USA Today into many of its local papers. Larry Kramer, president and publisher of USA Today, says consumer research ultimately led them to pick those "butterfly" editions over USA Weekend.
"After evaluating the research, many of our readers have told us that they enjoy the addition of the USA Today content into their local publications, and they have especially enjoyed the expanded weekend Life content, given its timely entertainment and lifestyle news," Kramer says in a statement. "With the success of our weekend Life offering, we believe it provides our readers and affiliates with a superior product to USA Weekend." 
The magazine had struggled recently with ad pages—it lost 9.7 percent last year, according to the last available PIB figures, by far the worse performance of any Sunday magazine—and saw its readership cut by almost 900,000 to 11.1 million in step with the "butterfly" experiment.
The move sheds further light on the Sunday magazine market after Condé Nast parent company, Advance Publications, sold Parade and Dash in September after reports of declining performance. It also follows a September round of layoffs at USA Today aimed at cost reductions ahead of a spin-off from Gannett next year.