Gannett Cutbacks Hit Magazine

USA Weekend hit by parent's workforce reductions.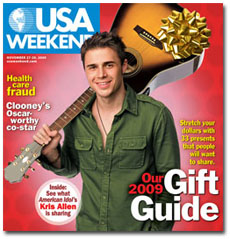 Cutbacks at USA Today publisher Gannett Co. have now impacted the newspaper's USA Weekend magazine.
Internal memos this week indicated that the company is slashing 26 newsroom jobs at the daily newspaper as well as 11 positions at the weekly magazine. Non-union workers at Gannett's other newspapers will be forced to take more unpaid furloughs after taking a mandatory one-week furlough earlier this year.
Through the first nine months, Gannett reported an operating income of $465.9 million, compared to a loss of $1.5 billion during the same period in 2008. Publishing division advertising revenues fell more than 30 percent to roughly $2.17 billion.
The USA Weekend magazine saw ad pages fall more than 20 percent through the first nine months, according to PIB figures.
The big newspaper publisher eliminated 10 percent of its workforce in 2008 and cut 1,400 positions last summer.
Gannett's stock price closed Tuesday at $10.01 after peaking at about $10.15 earlier in the day. By 4 p.m Wednesday, its stock was trading at roughly $9.87.
Meet the Author
---