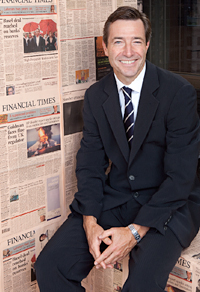 Back in 2002, when the digital strategy for most publishers still revolved around posting magazine stories to Web sites, the Financial Times adopted a strategy that previewed what was to come: charging online readers for content.
Today, as the reliance on advertising revenue proves untenable for many publishers, the industry is revisiting the idea of paid content. Two camps have emerged—those who think content should be paid for, and those post-Web 2.0 observers who say all content should be freely accessible and freely shared on the Internet.
For the FT, the switch has been a boon. Total global paid-for circulation is 563,026 (with digital subscriptions up 27 percent to 149,0947), while across print and online, the FT's average daily audience reaches 1.9 million. The FT Group—which includes Financial Times and FT.com, as well as M&A intelligence service mergemarket and The Economist—saw revenue jump 9 percent to about $300 million in the first half of 2010, while adjusted operating profit more than doubled to about $47 million.
Within the FT, content revenues are projected to overtake print advertising in 2011 (even as print advertising shows growth in 2010) and total advertising by 2013, with digital formats accounting for one-third of total revenue by 2012. The FT also raised its subscription rates by about 10 percent, with standard subscriptions costing about $221 while premium subscriptions go for about $325. FT.com registered users are up 77 percent to 2.6 million.
Still, it hasn't been a totally smooth road. The FT laid off more than 80 employees in 2009 and some observers have taken the FT to task for what they consider a clumsy consumer-facing pay wall, as well as the decision to put traffic-driving blogs behind the wall.
Here, FOLIO: talks to FT CEO John Ridding (a former journalist himself), about the remaking of a business model, and why online publishing has more in common with Internet retail than traditional media.
FOLIO: Financial Times had significant success in 2009 with digital subscriptions and digital revenue. How does 2010 compare? Does the model continue to be profitable? What have been the highlights of this shift? What areas didn't go according to plan and how did you respond? 
John Ridding: We're pleased with the performance of our digital content engine and there are two pistons there. One is the  FT.com's subscription machine. The other, which people know less about, is corporate content. Both of those engines were up double digits in revenue growth. One is focused on the consumer market, through products such as FT.com, while the other revolves around corporate licensing. Every news organization has been at the mercy of the advertising cycle for decades. That makes it difficult to plan and manage a sustainable business and invest in quality journalism.
Our starting point is we need quality journalism and we need a business that can sustain quality journalism. When times get tough, there are two ways you can respond, including, as lot of publications have done, by trying to cut newsroom costs. The danger of that is you get into a death spiral by reducing the quality of what you're doing and exacerbating the sales and readership issue. We took the view that everything would come down to the quality of our journalism, therefore we had to develop a business model that would support it. That meant increasing prices. We doubled the price of our newspapers in pretty much every market  and we have the confidence to charge for our journalism online.
FOLIO: How much of a role do other premium services—such as research, marketing intelligence, licensing—play for FT?
Ridding: Three or four years ago, FT was sold through aggregators such as LexisNexis. We got a cut, but we had the view that we weren't getting our fair share of the revenues. We decided on a completely new approach that requires companies wanting FT journalism to have a direct license from FT, and we set the price. It was a bold move at the time—we were giving up known revenue and going it alone.
Today, we are on the cusp of having our 1,000th direct corporate customer. Having those two consistent, coordinated engines of digital content revenues provides a much stronger and sustainable base to the business. It gives us confidence to invest in the newsroom, but it also supports advertising. There quite often is a misconception that there needs to be either an advertising model or a paid content model. We have both. By charging for journalism online, we have a much more compelling proposition  for advertisers because we're proving engagement and we can charge higher ad rates.
It's a virtuous circle. If you get the content machine right, it can therefore support the advertising side of the business.
FOLIO: How has the revenue ratio changed across the product line?
Ridding: Next year, we expect content revenues will exceed print ad revenues for the first time in our history. Digital formats will supply one-third of revenues by 2012. By 2013, content revenue will exceed total advertising revenue.
We thought content revenues would surpass print advertising this year, but print is doing better than we expected. One of the reasons it's hard to predict is because the ad cycle is shorter, so the visibility of ad revenues is less. It's fair to say that after a brutal 2009, things have improved in 2010, but the visibility of how much it's improved is less. Marketing departments are more wary of long-term commitment.
FOLIO: Profits for the FT Group were up more than doubled in the first half of 2010. What drove that growth? 
Ridding: Two factors: revenues were up robustly across content and advertising and a lot of the cost and efficiency measures we focused on in 2009 are seeing the full-year impact come through.
FOLIO: In an interview with The New York Times, FT.com managing director Rob Grimshaw said, "This isn't publishing as much as Internet retail." Do you agree with that? If so, what is the difference?
Ridding: When we started this online charging model, the primary reason was to raise revenues from content and to provide another foundation in addition to advertising. At the time, we didn't realize a more powerful benefit for the organization was the data and information it gives us about the audience.
In the U.K., a lot of newspaper sales are newsstand. We don't know who's buying, it's very anonymous. When you move to a paid online subscription and registration model, one of the most incredible things is the information it gives you about how people are engaging with your journalism. You can be much more scientific about how you market and develop products—you can see what people like and what they pay attention to.
For example, you can look at people who haven't subscribed yet but are still reading and then market to them based on patterns of recent subscribers. You can look at the efficiency of the conversion—how many unique page views does it take to turn into subscriptions. Data analytics are a game changer. We are investing significantly in data analytics—it helps in every facet of the business and it helps you target your audience in ways you never could before.
 
FOLIO: How do you collect data? What is the "propensity model" FT uses around it? 
Ridding: One way is through a dedicated analytics team. One of the challenges is that with more than 120 years of history, we've built up different data sets. Part of that challenge is coming up with a coherent set of data. We have lots of data, but we need data that is consistent.
FOLIO: How is data affecting your marketing approach?
Ridding: A couple of examples spring to mind. An airline wanted to reach geographic readers in the U.S., Middle East and Europe. We can identify the cohorts of those readers. The result is to target a campaign to an audience that is exactly what the client is looking for.
Similarly, with marketing and subscriptions, you can trigger upsell. The idea is that you look at readership patterns and look for similar patterns being displayed by registered users  and market directly to them. The conversion rates are eye-catching. Even a small percentage change in the overall conversion rate has a profound effect when you're dealing with millions of unique users.
The FT can identify the best new subscriber prospects based on their on-site behavior. Response rates are six to seven times higher than traditional acquisition campaigns, and those data-driven predictive campaigns are now responsible for 20 percent of new subscriber acquisitions every week.
FOLIO: What content performance metrics do you look at? How do revenue-per-user ratios drive the strategy? 
Ridding: We'll never edit by the numbers. I came from the edit side of the fence, I spent 16 years as a journalist, and I'm very aware now that I'm on the business side that it is entirely their business. It's fascinating and useful for them to understand what stories are striking a chord, but it's entirely up to them how they use that data.
One of our key metrics is average revenue per user, which has effectively doubled in the last 12 to 18 months, and we expect it to continue growing partly because we raised prices, but we have a very loyal readership and the price increases have stuck. That is also a function of improved retention rates.
FOLIO: How do the economics of a paid content model compare to a traditional ad-supported publishing model where editorial is treated as a cost center? How do the margins compare? What's the key to maintaining profitability?
Ridding: One of the reasons we've made this the center of our strategy is because we're a global publication, which is very expensive. The costs of printing and flying newspapers around the world are not inconsiderable. The U.S. is our single biggest market, but the economics of flying newspapers around the country are challenging. That puts limits and constraints on scale.
Digital channels enable you to reach a much more dispersed model. The iPad is potentially a game changer. For us, it's very liberating. We had no idea what to expect when the iPad was launched. In the first month, we had 250,000 downloads. It's very exciting when you see that latent demand becoming real. There are zero marginal costs of adding digital subscribers. With a paid-for business model, that is all very high margin revenue.
FOLIO: The FT is the only media company to win one of the first five Apple Design Awards given to app developers for the iPad.  How do you leverage the iPad? With paid content a priority, how do you work with Apple and the many restrictions they've put on publishers when it comes to customer data and monetizing audience?
Ridding: We are channel neutral. Readers should read the FT on whatever platform makes sense to them. But there are two principles we follow with any channel: that we have pricing power and we have a direct relationship with the reader. That works with us with the Apple model. The app itself is free to download. If you subscribe to FT.com, you can get our content through any device—iPad, the Blackberry, or the next thing that comes along.
From a customer perspective, it's really simple—they don't need a dozen different accounts. This keeps it simple and the pricing power is consistent. One of the reasons we've seen such take-up is that it's such a clean model. We've had 400,000 downloads of the new iPad app and 44 percent of our iPad users are in the U.S..
FOLIO: How is this affecting print? How have print subscriptions and newsstand performed?
Ridding: We're seeing two sources of growth with print—there has been some recovery and we've been taking share in every market. The reason we're taking share comes back to having confidence in the value of our content. In all of the major readership surveys—MRI, etc. —we've increased readership.

FOLIO: What's the priority for 2011?
Ridding: Our strategic priorities include continuing to build out digital content channels. In the last three or four years, we've been focused on things we've done deliberately, such as the paid online model, sustaining a global newsroom and the channel neutral approach. But new devices are changing everything. The rise of mobile is hugely important and profound.
We've got a world where people are becoming comfortable  paying more for content. Even Google is looking at a subscription platform. At the core of that is being focused on differentiation.
In terms of specifics, that means developing new formats and publications and looking at some of these new emerging economies where you see dynamic business performance and investor interest. We launched China Confidential, a premium service for investment advice. We launched a blog called Beyond BRICs that looks at emerging markets. We are very keen to develop niches—specialized areas of content that is must-have information.
The core FT and FT.com mission is to provide global news and analysis. Underneath that is the opportunity to develop specialist niches. There are so many opportunities to take readers to the next level of specialization.
SIDEBARS
---
 
From Cost Center to Business Driver
In May, a story on The Daily Beast asked if Gillian Tett, who had recently arrived stateside to take over the role of U.S. managing editor of the Financial Times, was "the most powerful woman in newspapers."
As the top U.S. FT editor, Tett oversees a group of 60 editors and reporters with the goal of providing high quality, intelligent journalism and analysis from a global platform. "Reporters are told they have to serve both the newspaper and the online edition," says Tett. "We're trying to integrate the operations, but different parts have a different emphasis. We have a special dotcom editing team in New York and we're organizing around thematic lines—such as a banking group or a media and consumer group. We also have specific editors more focused on the print edition and we often look to London for that."
The goal is to drive readers across all products. "In the paper we have a lot of references to our online offering," says Tett. "Online, we're not just offering news but we're also trying to aggregate other interesting sources of information. Maybe I'm caught by a story on the Federal Reserve. I can click on that, or I can click through to a multimedia package or cross-reference similar stories from around the world, or I can click on a special blog, like [the FT's] Money Supply. It's a very multi-tiered set."
---
FT Events: Independent Profits
In 2005, the FT produced seven events, which were located primarily in the U.K. In 2010, the group will produce 63 events around the world.
The global conference and event team operates as an independent entity within the FT portfolio, but is responsible for driving a deeper relationship between both advertisers and audience, as well as serving as a massive profit center, delivering a 23 percent net margin, according to Jayne Van Hoen, managing director of global conferences and events.
Events are divided into three categories: high-level macroeconomic events for a C-suite audience in industries such as telecom and pharmaceuticals; awards programs, such as the Financial Times and Goldman Sachs Business Book of the Year Awards (a "successful and very lucrative part of the portfolio," according to Van Hoen); and custom events, which can range from a client-sponsored breakfast for 50 people to a two-day event for 300 attendees. FT will produce 35 custom events this year, more than half its entire event portfolio. "The reason clients are moving into that space is we can demonstrate ROI—they can see if they spend X with us, we will deliver Y," says Van Hoen.
The team features 26 full-time employees (and one full-time editor), while hiring freelance specialists to program events.
The FT event business has been growing by 18 percent since 2005 and should continue to grow in that range, according to Van Hoen. Heading into 2011, multimedia offerings combining live events and digital platforms are a priority, including real-time and on-demand video.
"We are looking to develop a saleable library around our event content," says Van Hoen.
---

A New Look at Audience Development
Contrary to popular opinion, moving to a pay wall has some advantages for circulation and audience development, according to Greg Zorthian, the Financial Times' president of the Americas and global circulation director. "One of the beauties of the paid content model is it actually makes our job easier on the circulation and advertising side," says Zorthian. "We're almost ambivalent to which platform the subscriber wants. I don't have to worry that they'll go to the Web to get what we're selling in the newspaper for free. We charge for content, not for platforms."
While the FT doesn't mind cannibalizing platforms (say, a reader preferring the iPad over the newspaper), it does not want to cannibalize on price. Full price for an annual newspaper subscription is $348. "We have to know what the prices are across all platforms, which sounds simplistic, but for us it's a challenge," says Zorthian. "We distribute the newspaper in 140 countries and have introductory offers that sign people up as they get used to it. We do similar things in the online area."
Bundled packages could include one or two levels of online content—regular or premium levels, plus the print newspaper. "These aren't treated as separate products now," says Zorthian. "The popularity of the package varies region to region—we haven't seen much take up in the U.S., but we do see it in Asia."
Conversions Require Five Contacts
The FT offers traditional sampling devices such as trial offers and low cost short-term introductory offers (as well as day passes). Readers can register to receive 10 stories in any given month before they're required to subscribe. "The beauty of our model is we can move the barrier—if it's not working we can move it up or down to be more consumer-friendly," says Zorthian.
However, converting viewers into subscribers requires a very specific formula. "It takes about five different forms of contact with potential subscribers before they do subscribe," says Zorthian. "It can be any kind of contact—e-mail, direct mail, insert—but if it's above five they won't subscribe and if it's below five they won't either."
New Metrics
In May, the FT announced a new audience metric called Average Daily Global Audience, which uses several sources to measure global readership across print and online and is independently "assured" by Pricewaterhouse Cooper. Duplicated readership is removed. "Those tools take us into the new era of how content is being delivered," says Zorthian. "We're not wedding to an ABC circulation. The old days of 'tonnage is better than page views,' we're not wedded to that. We want quality circulation that ideally is paid for."
Newsstand sales account for less than 10 percent of FT's circulation, but the publisher has been aggressive about increasing prices. "When I joined FT in 2004, our newsstand price was $1 per issue," says Zorthian. "Since then, we've raised the price three times and now it's at $2.50.  We've seen some slight fall-off since going to $2.50, but not enough to hurt revenue."
People who buy one FT product are more likely to buy additional products, according to Zorthian. "It could be a high-end newsletter or conference where we mine lists," he adds. "One of the great prospecting tools for b-to-b content sales is looking at the number of individual FT.com subscriptions in a company. If we have pretty good penetration, that might mean the entire company is a candidate for a package. We're getting better and better at data mining and applying it to other questions."
Over the last two years, the Internet has been the leading source of newspaper subscriptions. This year, the FT is seeing more total subscriptions from the Internet than any other source. "As e-readers and tablets penetrate the market more and more, we will look at using them instead of the newspaper," says Zorthian.
Testing to Improve Campaigns and Marketing Response
Marketing efforts are increasingly Internet-focused, particularly through search engine marketing. "We can fine tune creative to difference audiences and we can also track a user's path to gauge their onsite experience so we can see who registers and subscribes," says Elissa Tomasetti, vice president of marketing and audience development. "We're testing communications to customers based on geography, demographics, user behavior, and reader patterns. That dramatically improves conversion rates."
FT.com subscription conversion rates jumped by 63 percent through testing different creative elements on landing pages and subscription barriers.
The FT also uses optimization tools such as Optimost for integrating multi-variant techniques on-site. "We can test mini variables in a communication," says Tomasetti. "The phrasing of an offer, the color, where it is positioned. We can get results in short period of time that help us improve customer experience."
A database management team is tasked with maintaining and improving the FT analytics interface and the group works closely with marketing to run customized reports. "We can do it on a daily basis, but if we're working on a specific project, we can pull customized reports," says Tomasetti. "They also have specialists within their team to help deliver those models, target users who behave like subscribers, then apply marketing tests to campaigns."