A G-Rated Playboy.com?

Publisher revamps site with advertiser-friendly intentions.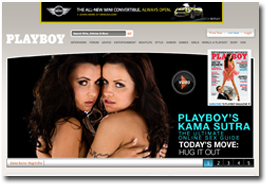 The financial situation at Playboy hasn't been pretty: The company reported a year-end net loss of $156.1 million in 2008, compared to a net gain of $4.9 million during 2007. Year-end revenue from Playboy's publishing division was $84.5 million, down from $93.8 million in 2007.
 
The company said it expects to report a 27 percent decline in advertising revenue in its publishing division in the first quarter of 2009.
 
The publisher has understandably been in a tight spot. Print-side advertising revenue has been down and online has suffered since so much—ahem, racey—content can be found elsewhere, for free. Its online/mobile sector reported $48.4 in 2008, down 24 percent from the prior year.
 
Playboy's solution? Clean up Playboy.com in hopes of attracting advertisers. The magazine announced a redesign today that will offer "a greater value proposition for advertisers, complement Playboy magazine, and firmly position Playboy.com as the number one entertainment men's site," according to Playboy Digital division vice president and associate publisher John Lumpkin.
 
Risqué photos will be relegated to one specific area, aptly called "Girls." Playboy said the site will feature a forum, a culture and lifestyle news section and new multimedia features, among others.
 
But will the dramatic turnaround online be enough to drum up enough sales to stay afloat? I'm sure traffic to the site is already sizable but are users going there for the editorial content, or to shop? My gut tells me no.
 
It'll take a lot of work to reengage Playboy's audience online.
Meet the Author
---