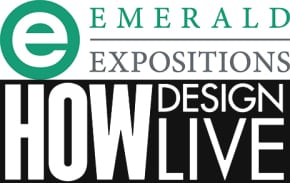 Emerald Expositions acquired HOW Design Events, including HOW Design Live and the HOW Interactive Design Conference, from F+W Media. F+W is keeping its non-event assets related to the brand, however, including HOW Magazine, Print Magazine and HOW University.
The sale marks the birth of a formal strategic relationship between the two companies, in which Emerald Expositions will produce the live events and F+W will have a hand in the programming, says Jim Ogle, F+W Interim CEO.
"Our partnership will be a symbiotic one, cross-promoting and marketing each other's products and services within the design community," says Ogle.
The announcement comes on the heels of F+W's sale of World Tea Media, producer of the World Tea Expo, to Penton earlier this month. But the timing, says Ogle, is purely coincidental.
"We have been looking at both for several months," Ogle continues, "Both events are in the B2B category, and while I think our teams did a great job with both events, our prime area of expertise is on the consumer side. The HOW sale does not mean we are exiting the design category; it remains a core part of our business."
Ogle cites the long-term management service agreement between the two companies as a core part of the deal and evidence that F+W remains firmly committed to maintaining a strong presence in the graphic design space. F+W saw an oppotunity in allowing a company with Emerald's live event expertise to take over the production of its HOW Design Events, and took it.
Several members of F+W's live event team joined Emerald as employees effective with the close, says Ogle.
M&A advisory firm Corporate Solutions represented F+W in the transaction.