Future US President to Step Down

Jonathan Simpson-Bint leaving after 18 years to launch start-up.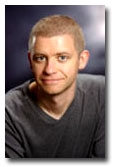 Jonathan Simpson-Bint is stepping down as president of magazine publisher Future US. His departure will be effective August 31.
In an e-mail memo to staffers, Simpson-Bint [pictured] said he's leaving the company to start his own business. "I'm leaving now simply because the time is right for me," wrote Simpson-Bint. "I've never made any secret of my desire to start my own business and—like a lot of people—I believe that the current economic climate is actually a great time to start a business."
Future is actively searching for his replacement, Simpson-Bint wrote. In the interim, an executive team—led by CFO John Sutton—will manage the company's day-to-day operations.
Simpson-Bint joined Future in 1991 and helped launch several of its titles, including Playstation Magazine, as well as IGN.com and DailyRadar.com. He also oversaw the acquisition of Guitar World and sibling publications Bass, Acoustic and Legends from Harris Publications.
Last month, Future US launched Guitar Aficionado, an upscale men's lifestyle magazine for guitar enthusiasts.
Meet the Author
---