Future Takes Stake in Blog Network Handpicked Media

Buys 35 percent of company, renames as Handpicked Future.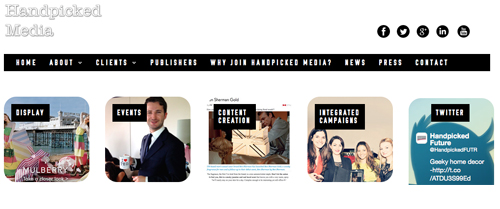 Future, the UK-based enthusiast publisher, has purchased a 35 percent stake in Handpicked Media, a network of blogs and websites that attracts about 3.5 million monthly uniques across the fashion, beauty and entertainment categories.
The deal gives Future an instant advertising and integrated marketing base, especially for the Future Women group, which currently consists of mostly crafting titles.
With the partnership, the new group will be named Handpicked Future.
"Krista [Madden, Handpicked's founder] and her team have created a really powerful social platform, which Future can support, expand and commercialize," says Future Women managing director Jo Morrell in a statement. "Our award-winning digital excellence offers tremendous opportunities for lifestyle, fashion and beauty brands to deeply engage their audiences through Handpicked Future."
Future's fiscal 2013 revenues were about $185 million, down about 9 percent, according to company financials. But the company has been reorganizing around a digital-first strategy, reporting a 38 percent increase in digital revenues overall in 2013, with 59 percent of total advertising revenue coming from digital.
Meet the Author
---