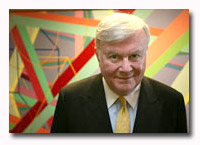 On Monday, the New York Times published a must-read profile of International Data Group, the large technology publisher that last year made a dramatic turn away from print to become a Web-focused company. (The big move came in April, when IDG shuttered the print edition of InfoWorld.)
IDG's online revenue has now surpassed its print revenue (52 percent online to 48 percent print) and its managers say they've adopted an online first business model.
Perhaps not surprisingly for the Times, more than once the article hinted that IDG "may offer a glimpse of the future of publishing."
IDG CEO Pat McGovern is quoted as saying "there is life after print in fact, a better life after print." The Times also tracked down Stewart Alsop, the editor of InfoWorld in the 90s, who said "what's happening at IDG is a fairly accurate map for every other publishing organization."
But is it?
The future-watching pundits are weighing in …
BusinessWeek's Aaron Pressman:
I hate to be the bearer of bad news, especially for my own industry, but using what happened at IDG as a map for the rest of the publishing industry would be like using Christopher Columbus's charts to fly to the moon. There's a publishing pink elephant in the room that nobody in the NYT's story seems to notice. Most of IDG's publications are what's known as controlled circulation. Readers paid nothing but were selected to receive titles like Infoworld gratis based on their attraction to certain advertisers. There is no subscription revenue to the publisher and the publisher still bears all the costs of printing and mailing. So when IDG shifts a publication to the web and stops printing, it can cut costs to the bone and shift advertisers to its Web site.
There are still multi-billions of dollars in the print universe. Media that matters is in flux. Media that makes money is in flux. Our media universe is changing faster than we can possibly comprehend.
No publisher I know has done a better job of understanding the Web and making the transition away from print. I've had a pretty good view of the struggles the company has faced as it moved to a Web-first model. And just like everywhere else in journalism, most of those struggles involved stubborn and close-minded people. Truth be told, IDG has fewer stubborn and close-minded people than any publisher I know.
My take: I tend to agree with Aaron. Magazines with controlled circulation and no subscription revenue are probably better positioned to make the transition than other magazines, where print accounts for 80 or 90 percent of the overall revenue, in some cases. But, also remember, IDG is the biggest tech publisher in the world. Smaller publishers, or those with audiences that haven't made the wholesale migration to the Web (there are a few lost souls out there—think, for instance, the readers of Town & Country) are going to have a tough time making the leap, and will probably be clutching their luxury glossies on the way down.
I do think this "Web-first" as a business trend is great, even if it's about three years late.
What do you think? Leave your thoughts in the comments section below …