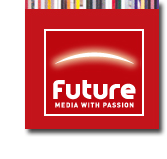 In its interim statement for its fiscal half-year ending March 2012, enthusiast publisher Future plc is reporting a quickly growing digital operation. Revenues from this segment are up 37 percent compared to the same period in 2011 and digital advertising now accounts for 44 percent of the company's total advertising revenues. In all, digital represents 16 percent of the total.
The company's digital growth, hitting $15 million at the half,  has been helped along by Apple's Newsstand. Since its debut last October, Future has sold $5 million worth of iPad apps, and now says it's averaging $800,000 per month in sales.
According to the company, 830,000 copies have been sold on the Newsstand and 45 percent of sales are subscriptions. Like other publishers are experiencing, Future says 90 percent of subscribers are new customers and 80 percent of the  market is outside of the UK.
Future's US group had a tougher period, with revenues down 20 percent overall to about $18 million. Circulation revenue overall dropped 30 percent to $7.6 million, with newsstand copies falling 40 percent. Digital advertising climbed 11 percent while print advertising plummeted 28 percent.
The company sold its music titles to NewBay Media, including Guitar World, Revolver and Guitar Aficionado, for $3 million. "Our recovery plan for the U.S. is on track and we will meet our commitment to return the U.S. to profitability within the next 12 months," says Future plc CEO Mark Wood in a statement.