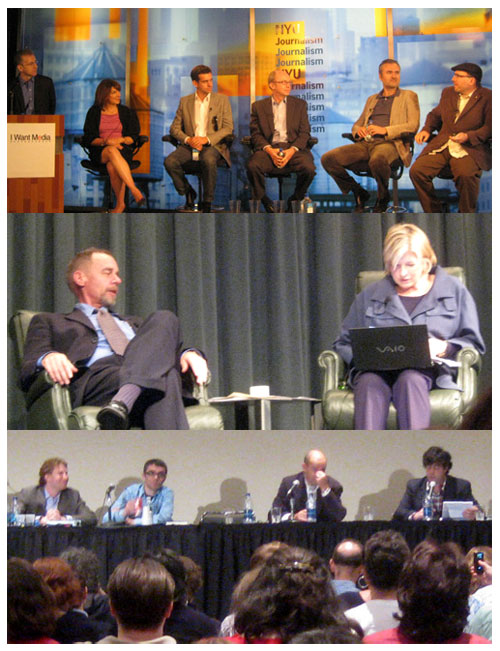 A recent series of panels attempted to answer the question plaguing
newspaper, magazine and book publishers: How do we engage readers online,
and create sustainable revenue models from this digital relationship?
While the panelists had many examples of the first part of that
equation—engaging an online audience—there were scant details on how to
monetize these Web strategies.
In the past few weeks, I attended three: Future of Celebrity Media, featuring panelists Martha Stewart, Bonnie Fuller, Mark Golinand others; Jumping Off a Cliff: How Publishers Can Succeed Online featuring Chris Anderson; and the Future of Media, featuring Craig Newmark, Nick Denton and Jack Dorsey, among others.
Between them, the traditional media of magazines, books and newspapers were well covered, as was the world of online media.
Everyone talks about capturing attention online, of engaging with
the audience, of leveraging online tools to reshape what media is—but
let's face it—the one element of engagement with the audience that is
severely lacking is this one:
How to extract revenue from the relationship between media and its audience.
What the sessions did was give a fascinating perspective on how the
power is shifting from media brands to communication channels. That
the Wall Street Journal would be lost online, without Google; that
journalists would be out of the conversation, without Twitter; that
People magazine is competing with newer upstarts that have a fraction
of People's overhead.
I left these sessions with the following conclusion:
This is the most exciting time to be in media and publishing that I can imagine.
There were plenty of high-minded quotes like this one:
"Trust is the key factor for the survival of news media and journalism." —Craig Newmark, Future of Media panel
Which is nice conversation, but offers no answers. An inherent
problem with trust is that the moment you monetize it, that trust is
in jeopardy.
The panelists shared honest perspectives that indicated just how
much their world is changing, and how difficult simple answers are. As
newspapers try to find massive audiences online, journalists are left
in interesting conundrums:
"Newspapers mistake their most popular content with their most important content." —WSJ's Allan Murray, Future of Media panel
"There is a community trying to reach out to them, so how does
CNN work to connect to the community? It's not just about content, it's
about community." —CNN's Dave Levin, Future of Celebrity Media panel
"The magazine is a catered affair—the menu has been selected for
you. The Web is a buffet—you can feed any size appetite that you have." –People.com's Mark Golin, Future of Celebrity Media panel
Amidst a revolutionary increase in the amount of content being
created and shared from anyone with a Web connection, opportunities
still remain:
"The value of producing something original has gone up dramatically." —Gawker Media's Nick Denton, Future of Media panel
"My Twitter followers are not my core audience. This is a tool to become friends with a new audience." —Martha Stewart, Future of Celebrity Media panel
"Media companies need to realize the Web is not a place to broadcast, it is a place to listen." —David Carr, Future of Celebrity Media panel
All-in-all, these are some of the concepts I walked away with:
• Broadcast media is dead.
Media is not longer a one way relationship, with content creators
reaching out to fans. As traditional media companies evolve, as
journalists rethink their roles, and as new ventures take hold—a common
thread will be a close relationship with those they serve.
• Print revenue is supporting online strategies.
One comment at the Future of Celebrity Media panel was that the kids of
those in attendance think it's laughable to read a newspaper. This
started an interesting back-and-forth until someone mentioned how
pathetic we were sitting here talking about our kids.
In either case,
there was confidence when talking about audience engagement, and
moments of silence when talking about sizable online revenue. For many
of the panelists, print revenue was keeping their online products
afloat, giving a false sense of confidence as to whether digital
strategies can really support their business in the future.
• Media companies need to rethink their roles and make hard choices.
Many traditional media companies seemed to be riding out the digital
revolution, waiting for things to get "back to normal." Now it is
apparent that won't happen, and they are only now realizing that their
audience no longer needs them as they once did. Power has diluted. The
risk is not slow growth—the risk is becoming irrelevant.
• There is a huge opportunity for journalists.
The opportunity might not have as much financial value as it once
did—but in terms of pure reporting—of serving the public and reaching
niche audiences—the tools and reach are now available to all.
This reminds me
of the current state of education: college courses are now available
for free online from the likes of MIT, Harvard or Stanford; the
knowledge is free, but the diploma costs $200,000.
•The advertising model is not dead, but it is fragmented.
With so many ways to reach an audience, advertisers are understandably
unimpressed by some ad strategies, such as run of site banner ads. The
examples of what is working—from the likes of Gawker—is custom ad
campaigns with a bold mixture of content and sponsor message.
One thing is certain: The the Web is being taken very seriously by
upstarts and traditional media power-players alike. There is little
doubt that the future of media lies in the digital realm—the real
question is—which businesses will find audience and business growth—and
which will continue to find diminishing returns on their efforts.