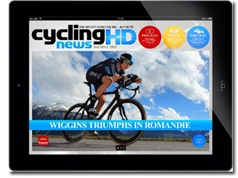 Future plc has launched a new weekly digital magazine, called Cycling News HD, to be sold through Apple's Newsstand.
The first issue is available for free, while subscriptions are priced at $.99 per week, or $42.99 per year.
The magazine aims for "international appeal," focusing on global road racing news, commentary, analysis and photography.
"We see Cycling News HD as a complementary experience that sits alongside the [Cyclingnews.com] website, offering consumers and advertisers a more considered, edited look at the week's key races," says Richard Schofield, publisher of Cycling News HD.
Cycling News HD was built through the company's in-house app creation software, Future Folio—an Apple-approved product that Future licenses to other publishers.
The software, according to the company, can seamlessly transform a publisher's existing app from a standard PDF into a rich media product.
"We have the ability to dial up interactivity from the basic PDF page-turner to the full interactive experience, all within the same product container" and "with no effect on [a user's] subscription," says Schofield. "We believe this is unique, as is our ability to really understand publisher workflow and keep total cost of ownership at a very low level for publishers wishing to develop this capability."
Future follows Bonnier in this endeavor. Bonnier's Mag+ app creation tool was developed in house to launch the company's Popular Science+ and other apps but is now licensed to other publishers, including Maxim, Outside and MAD Magazine.