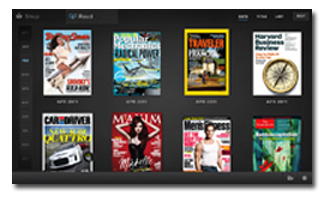 Zinio is positioning itself to be more than just a digital newsstand service—the company is rolling out a new suite of publishing tools that are designed to easily include interactivity for almost any digital magazine.
"We're not making an effort to get into a head-to-head competition with any type of design agencies or firms," says Jeanniey Mullen, global executive vice president
and chief marketing officer of Zinio. "We're trying to help organize a formal process for adding creative interactivity into magazines at various levels of skill sets for a magazine editor or an advertiser."
There are three components to this new suite of tools: FUSION Web, FUSION Design and FUSION Link. Each of these features can perform and be used in different ways depending on the format an editor or creative director chooses to incorporate.
FUSION Web is the most basic option, Mullen says, for publishers that don't have existing contracts with existing application design technologies like Woodwing. This feature, she adds, would be best suited for a smaller publisher or one that is looking to test the waters of interactive magazine content.
This component, as the name alludes, is accessed through a Web interface. A PDF version of the magazine is uploaded into the system, allowing someone to easily tap on a photo or image and upload a video or audio file and drag it on top of the image or section of text you've selected for enhancement. This overlays but does not change the existing layout of the magazine; instead it adds an extra layer of interactivity.
"Some titles have been extremely happy with that because their content is not conducive to lots of bells and whistles at this point in time," she says. "It's very basic, very quick and dirty and very easy. Anyone can do it and typically when we show it to people we actually ask them to try it out, that's how simple it is."
FUSION Design is the next step up in the suite, adding a little bit more complexity. This feature is a plug in of sorts for those who are creating their magazines in InDesign. This allows a designer to take the contents of a specific page in InDesign, and optimize them to meet personalized criteria.
"Maybe you'd like to add some scrolling text rather than requiring people to pinch and zoom," Mullen says. "Maybe instead of just an image of an automobile you'd like the image to replaced completely by a photo slideshow that will take up a half page instead of a quarter of a page, you can do that too. FUSION Web can be used by anyone but FUSION Design is for the person building your InDesign file."
The last part of the suite is FUSION Link, which is compatible with a third party like Woodwing Digital Publishing Solution. Once there is a finished Woodwing product, FUSION Link makes the product accessible through Zinio by enabling seamless integration through supporting the files within the frame of the Zinio reader.
"We feel this gives publishers choice," says Mullen. "It gives incremental distribution without creating additional costs or time commitments on their side—they can be as innovative and creative as they want and then we can take their file formats and share it with our community."