Furloughs, Salary Cuts and Employee Hours: What's Legal and What's Not

Measures like these may be necessary steps for survival but be clear on the law.
In an April 28th memo announcing salary cuts and a reduced work week for the summer months, Penton Media CEO Sharon Rowlands advised employees that they may be eligible for unemployment benefits and told them to check with their local unemployment office. She also noted that "special rules may apply to employees in California and to non-exempt employees, and we will be reaching out to these employees and their managers with specific information and specific instructions."
Pay cuts and layoffs are hard enough on employee morale but publishers have another reason to tread lightly in this area: Violation of state or federal labor laws could end up costing the publisher significant money and hamper future cost-saving steps.
FOLIO: spoke with law firm Morgan & Lewis, which specializes in labor law, on what areas should be of particular concern to publishers trying to cut back.
Government Eye on Small Businesses
Smaller publishers that have made due with either a part-time human resources staffer (or none at all) may want to reinvest in that position. While some publishers may be too small to be eligible under Federal law (typically 15 employees or more), state law may still apply. All it takes is one phone call from a disgruntled worker to put you on some agency's radar.   
Be particularly mindful of the overtime demands made on low wage earners (most employees must take home at least $455 per week before deductions). The Federal Department of Labor  has announced investigations on low wage earners in variety of industries. "The Obama administration says it will pour a lot more money into that," says Morgan & Lewis partner David McManus. "While the government might decide to focus on a particular industry, smaller companies get on a government agency radar because a former or current employee makes a complaint. Often an employee leaves for another job where they do similar work but they're classified differently. Now that they get overtime, they scratch their head and say, 'What's up with that?' and file a complaint against their old company."
While "overtime" is a seldom-heard term in the publishing industry, publishers do have to be aware of company hours in relation to reduced wages. "You have to be vigilant in making sure you have an off-the-clock policy and make sure managers aren't applying pressure to employees to work overtime that's not reported," says McManus. "Employees generally are entitled to overtime under the Fair Labor Act with exceptions, so many that the exceptions almost become the rule."
Don't try to sneak work in during a furlough week, even with the promise of future compensation. "If for a week you're furloughing people who are exempt from the overtime laws, you have to make sure they're not working at all," says McManus. "If they've done work and they're an exempt employee, they're entitled to their weekly pay. You may even lose the exemption for a whole class of employees based on that one employee."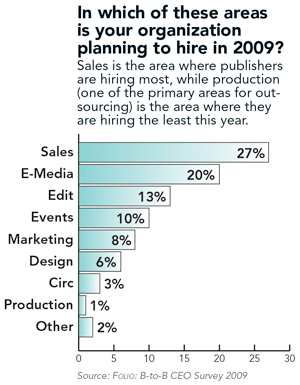 Heightened Litigation with Contractors
Publishers are increasingly outsourcing core duties such as production, edit and sales to contract workers. However, that's also becoming a growing source of litigation. New York State is considering investigating the status of independent contractors and whether they're classified correctly. "We've seen an increasing trend in private litigation and in state and federal regulatory agencies going after claims that individuals who were treated as contractors, so they didn't get benefits or overtime, actually are employees," says McManus.
Sales reps are a particularly touchy area. If a rep  is required to spend so many hours in meetings with the publisher, that rep could be classified as a full-time employee, and eligible for corresponding benefits.
Meet the Author
---