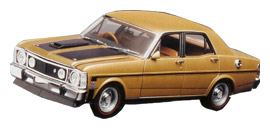 The third quarter proved to be another positive three-month period for consumer magazines, with advertising pages increasing 3.6 percent (marking the second consecutive quarter of slight growth) and estimated ad revenues jumping up by 5.3 percent.
Also noteworthy was that the automotive advertising category reported a 43 percent growth in ad pages to 2,606.78 pages, the biggest increase among the 12 categories tracked by PIB. Year-to-date, the increase is smaller (+24.7 percent, at 6,853.12 pages) but still represents the biggest growth through the first nine months.
While auto advertising by no means has returned to where it was a couple years ago (it's still down more than 30 percent from a reported 10,190.54 pages through the third quarter 2008), auto makers advertise in all types of magazines, so the upswing is significant in that it affects titles all across the industry. And, of course, no category is impacted more specifically than auto-related magazines.
The auto title that has seen the biggest ad page gain through the first nine months of the year is Source Interlink Media's Automobile magazine, which has grown ad pages 16.1 percent to 421.76 pages. HFMUS' Car and Driver, which has the biggest market share with 607.89 pages, reported an ad page increase of 4 percent through the first nine months. The only auto title to report a loss for the period was Hot Rod, at -0.2 percent.
Ira Gabriel, publisher of Automobile and Motor Trend magazines, attributes the growth in auto industry advertising to the auto makers fighting for market share. And Gabriel's team has made strides to capitalize on that growth.
"During this past year, we have made a focused effort to sit with our clients, listen to their objectives and goals and return back branded solutions that drive influencers," Gabriel says. "For example, Automobile editor-in-chief Jean Jennings recently produced a number of special integrated inserts for – multiple GM divisions, Lexus (on the launch of the LFA) and BMW. These special sections included ideas brought to the auto companies by Jean and her staff, which created a branding message and strong association with Automobile Magazine. Together with print, the integration was comprised of online, video, email and radio."
Collectively, the six auto titles tracked by PIB reported an increase in ad pages of 6.82 percent. Year-to-date, Autoweek has grown ad pages 6.9 percent, Motor Trend is up 9.6 percent and Road & Track is ahead by 4.5 percent.