FT Releases Free "How To Spend It" iPad App

Deconstructs mag format to optimize digital user experience.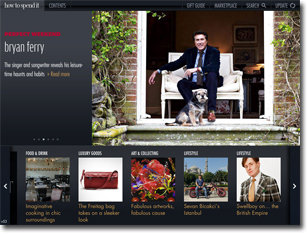 Financial Times is making its newest iPad app–the luxury lifestyle magazine How To Spend It–available without charge for users.
Besides utilizing 60 issues (or two year's) worth of content from How To Spend It's archives, the editorial staff of HTSI will also update the app's content seven days a week with blogs, columns and interviews. According to Gillian de Bono, editor of How To Spend It, "The content has been deconstructed and rebuilt into subjects, so people can actually search for their favorite subject, columns or writers, without having to go to that magazine 'dip in'."
A search engine is integrated directly into the home page of the app, which launches today.
As for the decision to make the app free, de Bono says, "How To Spend It is very much about leisure; we have always been very widely supported by luxury advertisers and this is the business model in the digital format." Six advertisers are featured in-app at launch.
There are 19 staffers currently with How To Spend It, including six recent hires. All edit staff write for both the print and digital formats of HTSI, "in order to ensure the caliber of the editorial," says de Bono. The same freelance photographers shoot for the web, app and print properties as well.
The HTSI app includes a Gift Guide, serving both female and male demographics, which will be updated daily. When asked about the possibility of an e-commerce tie-in, de Bono tells FOLIO:, "It's something we would always consider, but launching without one. It's a tricky one for magazines; we have to maintain our editorial independence, and one who approaches e-commerce has to bear that in mind."
As for the FT press statement that this app "transforms the way magazine content is packaged for the iPad", de Bono says, "The normal model for magazines is to pay per issue, and part of that is to drive circ, boost circ for print. We've taken a totally different approach, with web-specific content…every day you can open your app and download new content, and have a sense of discovery."
The How To Spend It app joins other ad-supported FT apps like the Little Books of Business Travel in Apple's App Store. At the end of August, Financial Times' main paid content app was removed from the App Store, after the publisher and the retailer could not come to an agreement concerning Apple's subscription model. The Financial Times' web-based app, launched in June, boasted 550,000 users at the time of the iTunes exit.
MB Christine, head of product development at FT, said of the publisher's qualms with Apple, "By not knowing who are our customers are, we can't give access to all devices, if you signed up. [Not giving the 30 percent cut of purchases] is a side benefit of not having to go through the Apple cycle. However, it would have been a different conversation if the data was available."
Meet the Author
---