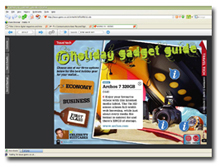 Printing, production and distribution company Fry Communications has introduced Fry LIVEPAGES, an online publishing platform that merges online interactivity and rich media capabilities.
The platform "goes beyond the status quo of digital editions by providing a unique and visually engaging user experience," said Steve Grande, Fry's vice president of sales, and will incorporate video, animation, rollovers and one-click sharing via social networks to promote reader interaction with fully-searchable, SEO-supported content via API packages.
LIVEPAGES' key differentiators—enabling it to go beyond print and digital editions—include the depth of content, reader control of what is presented onscreen through rollovers and click-thrus, and the activity tracked by system-specific, real-time analytics, said Grande. "The biggest differentiator, though, is the richness of the content—the many instances of flash, video, polls, rolling filmstrips, news tickers all in one spread," he added.
To help increase publisher ROI, LIVEPAGES provides concrete data on respondents to interactive ads, as well as "immediate feedback on ads that work and ads that don't," he said. According to Fry, interactive ads increase click-thru rates from less than one percent on a traditional banner ad up to 20 percent or more for an interactive ad.
While no magazine publishers are on board with the new platform yet, Grande said feedback has been positive.