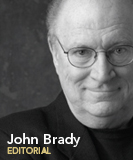 The frugal editor isn't cheap. Just cautious—about all the right things.
Here are some cost-efficient ways to move forward in crunch times, to rethink and add a new dimension to your publication without straying from your editorial mission and spending a bundle. Many are money-savers or freebies; some would involve charges that would be nominal or even perceived as value.
Accordingly, in 2009, you may want to resolve to…
1. Improve the interviewing. The least expensive way to improve your publication is to improve your reporting. Get more quotes, more sources, more insight in your stories at the reporting stage.
2. Eliminate bottled water in the office.
3. Insert or bind in a bookmark in the magazine (with appropriate sponsor).
4. Start an e-mail newsletter for "this just in" material.
5. Tighten word-length requirements for all columnists.
6. Rotate regular contributors instead of running them every issue.
7. Tighten the TOC to one page (if you currently have two pages or a spread).
8. Eliminate the current last-page department or feature. Move the editor's column to that page.
9. Tighten short items for news department. Link stories to the Web site for further expansion if readers require.
10. Look for low- or no-cost copy on relevant Web sites and postings to see what's going on there. Report back to readers.
11. Use typography for a cover or feature layout instead of a photo treatment.
12. Look for pre-publication book excerpts from publishers who want to hype an author or topic of the day. Cost is nominal, and they also save editing time.
13. Combine an issue. Monthlies can combine a summer issue or a winter/holiday issue and save a bundle.
14. Pool coverage of events with other publications.
15. Perfect telephone interviewing skills to reduce travel.
16. Use online surveys to research and report stories and to merge print with web.
17. Conduct in-house seminars by veteran staffers for training new recruits and refreshing old 'uns.
18. Expand the no-cost letters and guest-contributor pages.
19. Renegotiate stock-house agreements, and revisit printer contracts, with focus on paper waste allowance charges, overrun allowance, smaller trim-size options.
20. Create a helpline column, ombudsman or Q&A problem solver for readers.
21. Open a speaker's bureau. Put editors on the phone or on the road to rep the publication in seminars and workshops; make speakers available for local or regional TV and radio shows.
22. Sell reprints. Cluster them by topic, and stop giving away your archives online.
23. Open a custom-publishing branch. Customize annuals, one-shots, calendars and guidebooks that recycle editorial and artwork.
24. Use art in public domain, free images from PR firms, museums, galleries, and private collections.
25. Buy "second use" rights to art used elsewhere.
26. Find visual talent in schools, catch rising stars and artists just beginning their careers.
John Brady is visiting professional at the Scripps School of Journalism, Ohio University. He is a partner at Brady & Paul Communications, a publishing consultancy, and conducts editorial workshops for professionals. For information on his Interviewer's Handbook: A Guerrilla Guide for Reporters and Writers, his web site is johnbrady.info, or you may e-mail him at Bradybrady@aol.com.