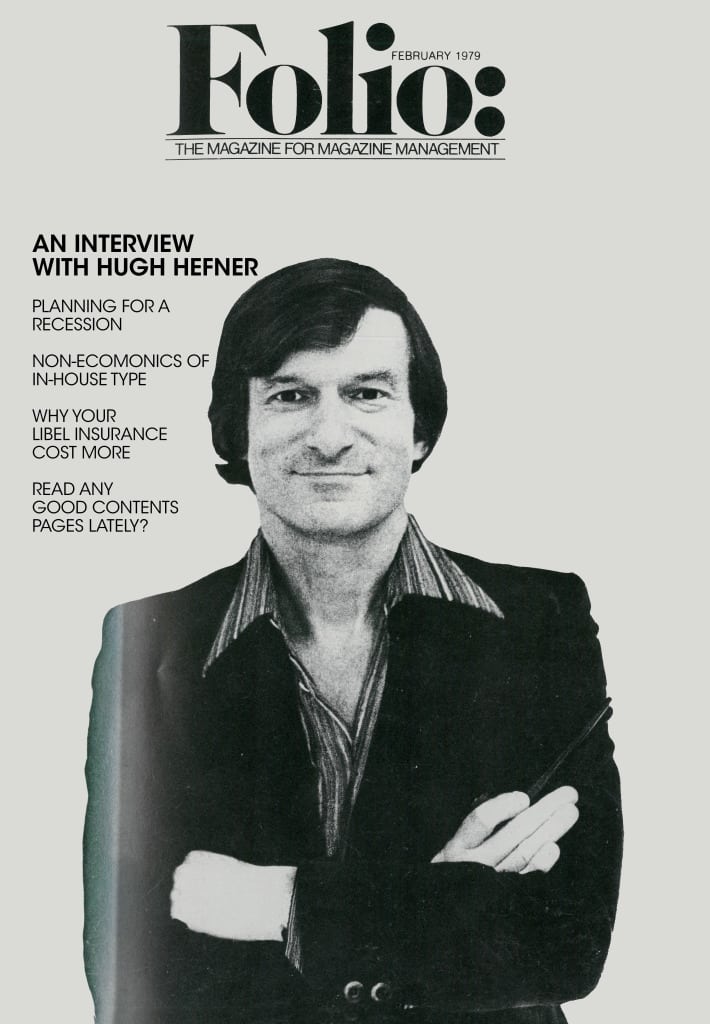 Hugh Hefner, founder of Playboy magazine, and cultural icon, died last night in his home at the age of 91.
There's very little left to say about Hefner by now that hasn't already been said. His impact on American culture is indisputable. But more than that, his impact on magazine media, as we know it today, is significant.
In February 1979 Folio: published a 6,000-word interview with Hefner, that discussed him, his business, his legacy and magazines. When you read it back today, nearly 40 years later, it's stunning how much still rings true, and how prophetic he was way back then. Here it is, in its entirety.
FOLIO: TALKS WITH HUGH M. HEFNER
BY: CHARLES TANNEN
Playboy's first issue was published in December, 1953 with a personal investment by Hugh Hefner of $600 and $6,000 more he had begged and borrowed from anyone who would stand still long enough to listen to "a new idea for a men's magazine." It had no date on its cover because Hefner wasn't sure there would be a second issue.
By the early sixties, Playboy was often described as a "publishing phenomenon" and was and was an increasingly popular subject of discussion by columnists, commentators and even a few social scientists writing in scholarly journals.
Today, Hugh Hefner is clearly the best-known magazine publisher in the country. Although much has been written about Hefner the playboy, little has been said about Hefner the publisher and editor. To mark the 25th anniversary of Playboy, Folio's publisher Joe Hansen and editor Chuck Tannen visited the Playboy mansion in Los Angeles to find out about Hefner the publisher and editor.
FOLIO: Twenty-five years ago did you ever dream that you would be where you are now?
Hefner: I had some pretty spiffy dreams, but even in my wildest dreams I had no idea of what was coming. If I had been given the gift of being able to see into the future for a moment when I was in college, I probably would have had a cardiac arrest. But I felt as lucky and as successful in the early years of Playboy as I do now because my expectations were different. Those days were unreal, and then weeks just turned into months, and months turned into years. I think I have handled my success well. I don't think I've lost my perspective in terms of where I came from, who I am.
I'm very grateful for what's occurred. I think that I made my own way and that I'm responsible for most of what has happened to me. But at the same time, success is a combination of a number of considerations, not the least of which is being in the right place at the right time.
FOLIO: How important is luck in success?
Hefner: Not very. Success is only an enigma when you're not successful. When you're young and you're outside looking in, it's all a mystery. You wonder whether you're ever going to get your place in the sun. The truth of the matter is that there are so few really talented people around—people with real perceptions. People become successful just because there aren't enough good people around to fill the roles.
FOLIO: Have you ever thought back to major decisions and wished you could make them over again?
Hefner: Well, great opportunities were undoubtedly out there, but I'm not aware of any that I missed. Who knows? So many things just worked out well, and so many seemingly unrelated individual decisions, the full implications of which weren't completely obvious at the time, just fit together well. Listen, the magazine was originally going to be called Stag Party.
FOLIO: What do you think would have happened?
Hefner: Well, I don't think we'd be sitting here spending this very pleasurable afternoon discussing it all. The notion of a bunch of stagettes in a club with antlers on their heads is a little mind-boggling. Shakespeare said "What's in a name?" Sometimes a great deal.
FOLIO: Over the years we've published a number of articles on the life cycles of magazines. Where is Playboy in its life cycle?
Hefner: There is a natural life cycle for publications which is similar to the life cycle in people. A vigorous chance-taking youth becomes more conservative in the middle years. Then, in the later years, there is the danger of a hardening of the arteries and maybe even senility. Also, companies that publish magazines tend to change hands over a period of time if the publication is successful, and eventually the company may wind up in the hands of a corporate conglomerate. . . or a family. . . or a bank where decisions come from an orientation that is very different from that of the original company.
Now, that has not occurred here. And, with Playboy's passage from me to my daughter Christie, it is not likely to happen in the next generation. There is no generation gap between Christie and myself. It is remarkable considering the fact that she's a woman, and considering the fact that my marriage ended in the very beginning years of Playboy so that she was raised primarily by her mother and, for a time, a foster father. We are incredibly alike in our attitudes and values. I once made the comment, only half in jest, that if she hadn't been born and available for the job, we would have had to invent her because she is so perfect for what she's doing for us. She senses that and gets a lot of satisfaction out of it.
FOLIO: How is Christie fitting into the organization?
Hefner: She came in on the corporate side and is now learning the business. She's a Phi Beta Kappa from Brandeis with a major in English Literature, so her interests are on the literary end of things. When she graduated there was no notion in her mind or mine that she would join Playboy. She was looking around, trying to decide what she wanted to do. Then the notion of her joining Playboy came to me as a logical one and I suggested it. She became very excited about the idea, and it has worked out even better than we could have imagined. I think that if she had come in strictly on the editorial side she would have found it limiting. One day, obviously, she'll be running it.
FOLIO: What exactly do you do as publisher and editor of Playboy?
Hefner: I hold a monthly general editorial meeting with my key editors and associate publisher in which we go through a number of features that I'm still involved in, including the cover, centerfold, pictorial and certain major features. During these editorial meetings—which may cover a single afternoon and early evening, or even a second day—we plan the months immediately ahead in terms of the general content and notions for new features. We also review the current issue or the issue just past and discuss any comments that I have regarding graphics or pacing or editorial approach. In terms of the actual editing, that's something I haven't done since the early sixties.
In addition to dealing with what is immediately ahead, we also deal with the general philosophy of the book and where we're taking it.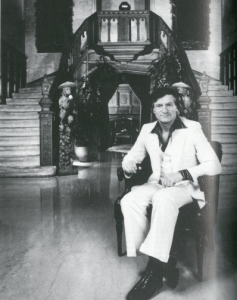 FOLIO: How about your management of the corporate side? What's your role?
Hefner: I'm more creatively oriented than business oriented. It's hard to believe when I've got myself a fabulously successful business operation, but it really is true. We have repositioned the company with some new and very good people from outside, Derick Daniels, president, being chief among them. I will have two or three meetings a month with Derick and he's out here about a quarter of the time. It's a matter of getting the reports in terms of projections for the next quarter and year and any special problems and opportunities that we have.
FOLIO: How did you shift from being an entrepreneur to being a corporate manager?
Hefner: In the first year, 1953, I was doing it all, of course, because there wasn't anybody else around. One of the more difficult things that I had to deal with at first was the allocation of responsibilities. As a company grows, if you spend too much time dealing with individual trees you really can't take care of the forest. Playboy has always been a very personal publication for me and it wasn't easy initially to give up some of those details. But that was a very important step, and that was done in the early sixties. And, of course, I did the same thing with the business part of the company which didn't work out quite as well.
FOLIO: What went wrong?
Hefner: Well, Playboy grew from a very small company into a very big one rather rapidly. I had attempted to structure the company from the inside, and that approach seemed to be very
successful until we ran into the recession. Then we discovered that middle and, in some instances, upper management levels just weren't getting the attention that was really required. Now, it's a matter of absorbing change and putting in place the kinds of controls that are needed. I try to have the day-to-day detail of running the business handled by other people more suited for that. My time can then be spent in meetings, planning where we're going and the best way of getting there.
FOLIO: So the problems were primarily people problems.
Hefner: Primarily, but we've also taken a very hard look at our entire operation and made some significant changes. Among other things, that included getting out of some businesses that were not working out, like the record company where in agreement with Columbia Records to handle the Playboy Record line. We're concentrating on the things we know best.
FOLIO: What about the problems with the magazine?
Hefner: When we were having circulation erosion we really a few choices. We could have magazine more explicit and jumped circulation that way. We could have spent lot of money on forcing the circulation. Instead, we lowered our rate base and did it so successfully that we were selling more advertising while the rate base was being dropped. We took the option that we really felt was the healthiest one from a business point of view, and the most legitimate one from an editorial point of view. We made the case to advertisers as directly and honestly as we could.
I don't think there is a magic circulation number. You can have a higher viable very successful publication with a circulation of 200,000 or with a circulation of several million. People get the general notion that once you've reached a particular circulation level you have to continue to do better or you're not successful. Where does it say that? Whether or not Playboy magazine itself will ever gain throw off as large a profit it did in the past is unknowable. Production costs have skyrocketed in recent years. But the company is going to have, without question, the best years ahead.
When people were writing about the effects of recession on the automobile industry or steel industry or any other part of society, they viewed the problems, quite properly, as temporary. When they wrote and talked about Playboy, however, they approached its problems in a social sense with the suggestion that maybe particular point of view on life or lifestyle had changed. Well that of course is nonsense. Today, the public is closer to where Playboy is than at any time since we started publishing. They market is bigger in terms of the total number of issues and publications sold.
FOLIO: Looking at Playboy Enterprises' numbers, half of the revenue comes from outside magazine publishing right now. In which direction are you moving?
Hefner: We are now putting a greater a greater emphasis on future expansion possibilities in print, film and electronic media. In other words, it's all in entertainment and communications. Expansion in magazine publishing will be with others—in some cases acquired, in some cases—created—and primarily special interest publications. We'll also be expanding our film and television activities which were delayed while we were getting the company back into shape.
And we'll be expanding our club and casino potential. We are the only Americans, indeed the only foreign casino owners, who have licenses in England. We've built quite a reputation there by running casinos legitimately, and not having the experience that has been so commonplace in America. We think that's going to serve us very well in the immediate future both in the United States and abroad. Gaming and gambling are a reality that must be dealt with. What's happened in Atlantic City is just the tip of the iceberg. I think it's madness to allow a major part of society's revenue to go off into the underworld instead of being used in our cities or states to solve problems.
FOLIO: What do you foresee for the magazine industry?
Hefner: It seems obvious that the general interest full-family-audience-oriented publication is, by and large, a thing of the past. Television has usurped the general audience because it can serve that audience better. I think the future of magazines, without question, is in special interest, special audience publications. And I think that special audience is growing as the world becomes more literate. Indeed, as television and information and visual sophistication, magazines can be increasingly important.
FOLIO: It's even been said that some magazines are the creation of television. Sports Illustrated, some say, is a by-product of the desire for more information than people are able to get from television.
Hefner: I think that's true. I think that a magazine, you can select some specific interest and then deal with it in detail from a particular perspective, whereas television, by its nature, has to be all things to all people.
FOLIO: What about Life [Magazine]?
Hefner: The first issue for me, quite frankly, reflects the problem Life had in its last stages. Life is a good example of a magazine that went through the life cycle. It was so vigorous in its early years in dealing with America in the late depression and throughout the Second World War. Then it started taking itself very seriously—stories by Hemingway and the "Epic of Man" features. It lost touch with what was going on. We were at the beginning of a sexual revolution and major social changes but you couldn't find that in the magazine. I think the magazine, based upon its first issue, appears to be much more photo-oriented than people- oriented. I think there's a lesson for Life in People magazine.
FOLIO: What about Playboy?
Hefner: Playboy remains a very contemporary magazine by both reflecting and affecting the changes that have taken place. The basic premise of the magazine, which is to deal with the life away from work, will almost certainly remain the same. We deal with leisure time and what people do after they get out of school and before they settle down to raise a family. The focus of the magazine is that period of discovery, of developing a sense of self, of establishing some sense of style. It will change to the extent that society and its perspective changes. 
FOLIO: When a person starts to raise a family, is that a lifestyle appropriate for another magazine?
Hefner: One or many other magazines. I'm not suggesting, and it obviously is not true, that Playboy is just limited to single guys. We know that we have many female readers. We know we have many readers in school. We know we have many readers who are married. But I'm talking about a focus. I'm talking about an attitude. I'm talking about where the magazine zeroes in.
FOLIO: What's your major competition?
Hefner: Probably television.
FOLIO: What magazines are your major competitors?
Hefner: I don't think there is any one publication. But, for example, we have to sell harder against Sports Illustrated than we do against Penthouse because we vie more for the samedollars. Now, with Penthouse it's a curious thing. It has enjoyed a dramatic increase in circulation. It has a very nice circulation base and is the only other book that could perhaps do a fairly good job in terms of the advertising.
FOLIO: What about Penthouse 's editorial product?
Hefner: The magazine isn't related to anything. In all the years they've been here, they haven't published anything of any importance or anything that anybody remembers. I think that the magazine does have a certain quality and, obviously, it is successful but they really have done nothing. Penthouse is really removed from Playboy. It's really a contemporary package. It's the modern equivalent of Victorian pornography. It works on that kind of level and I think that's the major part of its appeal.
FOLIO: Playboy is no longer on the leading edge of men's magazines but rather has become the establishment magazine in the field. Are you comfort- able with that position? 
Hefner: I don't completely agree with it. People often forget that Playboy has never really been on the forward edge of explicit sexuality. It never has been. As a matter of fact, I think you would be surprised at how conservative the magazine now looks.
We had an important decision to make about four years ago when magazines were becoming increasingly explicit and we had some erosion in terms of our sales. We re-established what the magazine was originally intended to be—a life style book and an entertainment magazine in which sex would be one important element within a total package.
In the early seventies the magazine had become more sexually oriented and I, quite frankly, was less involved in it. It was during the period in which I had moved to California and I
FOLIO: Do you think it was a mistake to pictorially compete with Penthouse back then?
Hefner: Yes. I think there was a brief period there in which the first logical conclusion was not the appropriate one. It was also understandable. It was a period in which Penthouse was enjoying very rapid growth. Of course, that's no longer true.
The only way you can really be a leader and a distinctive element in communications is to speak with your own voice. During that rapid sexual change, with all the books climbing in circulation, we started responding rather than initiating. That's passed.
FOLIO: What's the appeal of Penthouse?
Hefner: A major part of its appeal is simply Playboy. After a publication is very successful a certain number of people get pissed off at it. They want the same thing, but they want it some-where else. Almost always with a major publication you'll find a fairly strong secondary book. Penthouse mounted a very good advertising campaign, which reminds me a little bit ofLooks campaign. Long before Look became a really viable magazine it was doing great promotion even though there were a number of years when Look was not nearly the book that Life was. I mean they really were not even in the same ballpark.
FOLIO: Playboy used to sell out on the newsstand with extremely low returns. Now it sells around 60 percent from the information I've seen. What has happened? 
Hefner: There was a period of time when Playboy, while being the most imitated magazine, was the only one that had any real circulation or any real acceptance. The climate has changed.
FOLIO: Where do you see circulation going as far as the relationship between subscription and single-copy sales?
Hefner: We see a healthy circulation as a combination of both. Each has its advantages, each has its drawbacks. The newsstand remains a little more profitable. For a magazine that is as expensive to produce as Playboy—with many pages and a good quality paperstock, and with the increased costs in terms of shipping and printing and paper and postage—the copies you don't sell are expensive. You have to keep analyzing.
FOLIO: Where do you think Playboy is going as far as price? 
Hefner: I have no idea at all. The answer is really related to what's going to happen in our inflationary economy. We noticed something very interesting when we went up to $2. It had almost no effect and that's the first time that's been true. We usually have some slippage which we then have to rebuild over time.
FOLIO: Recently we received a press release saying that Playboy's December issue has 396 pages and that you literally can't get a staple through another page. What do you do now?
Hefner: That's only a problem in terms of the year-end issues.
FOLIO: Would you ever consider increasing frequency?
Hefner: I doubt it. There's been talk about a thirteenth issue but I doubt it.
FOLIO: Why?
Hefner: The only motivation for that would be additional dollars, and there are other more satisfactory ways of accomplishing that. Even with the increase in price, Playboy is still such a
good buy for the money that a reader is hard-put to get through an issue before the next one arrives. I think the monthly spacing is a pretty natural groove.
FOLIO: Do you think the reader sees Playboy the way you do?
Hefner: What Playboy is really all about is still not understood in a lot of quarters. Newsweek, some years ago, commented on the excellent editorial, literary material contained in the magazine while taking us to task for what they referred to as our peek-a—boo interests in sex. That says more about our traditions and our society than it does about Playboy. What we try to do in the magazine is put together a package of interest and entertainment that is very similar to the interests of our audience. And that includes sex.
For me, the magazine is a response to the puritan part of our culture which isn't simply anti-sexual. That part of our society is primarily anti-play and pleasure. It fosters the guilt that we have about sex and material things and the enjoyment of life. We've never really developed in America a style for living. There's a life to be lived—and it isn't infinite.
FOLIO: Even at the mansion? 
Hefner: Even at the mansion. Even at Shangri-La. As Auntie Mame said, "Life is a banquet and the most poor sons of bitches are starving to death." You know, you only get one time around—but once can be enough if you work it right.
FOLIO: How does all of this relate to the magazine? 
Hefner: Playboy is trying to put some of that play and pleasure back into life. Playboy is thought of as a very materialistic magazine, but the truth of the matter is that it is no more materialistic than the Post was, or Life, or any of the rest of them. The difference is that we try to emphasize the pleasure and fun you can have with things. Things don't mean anything in and of themselves. We try to reflect an attitude toward life.
FOLIO: Has your magazine become an influence on society?
Hefner: It's a source of very real pleasure for me that Playboy has had a tremendous influence on how the whole society lives its life, much more than is generally conceded today. There's been a reluctance in some quarters to give Playboy its due during the last 25 years and particularly in the last 10. I think that the reluctance is a reflection of a lot of things, even the fact that we started in Chicago instead of New York. We were outside and we did it better than the guys on the inside. We dealt with sex and money—a very dangerous combination, the two great guilts in society—and we made it all work and obviously had a ball doing it. I don't think most of it is conscious, and I think it will change with time.
In terms of editorial impact, the magazine was a major consideration in our last presidential election. The magazine has become a major force in our society.
A guy on television said that if a football player doesn't make the Playboy All-American team he doesn't really have a shot at the Heisman Trophy. That's wild. In a broad spectrum of activities, including the sexual, Playboy is where it's at. It's difficult to think of another magazine today that really, month-in and month-out, has more impact on society. This was not true a few years ago, however. The disappearance of some of the other major publications has caused some of this.
FOLIO: But when most people think of Playboy they think of women. People don't say "great lifestyle book." 
Hefner: We know that for its sexual content, Playboy is certainly not the best buy around. There are many more sexually explicit magazines. But in the last year or two, Playboy has run more articles that have truly become hard news stories than any other single publication being published in America today. I don't even know what the second publication would be. Of course it's still the girls that everybody remembers because that's the world we live in.
FOLIO: What about its influence on other magazine publishers?
Hefner: Playboy has had more impact upon the visual look of publishing than any other single publication or medium. People forget what magazine illustrations look like. It was all Norman Rockwell and realism. The whole pop-art style and the use of various forms of abstract art all began with Playboy. There was nothing like that going on in America when Playboy began.
FOLIO: Do you feel that the rest of the magazine industry, excluding men's magazines of course, is still puritanical?
Hefner: Not any more. All women's magazines have followed Playboy. Take a look at women's magazines in the fifties and sixties. They were anti-sexual and the sex that was dealt with in most of the magazines was the most viscous and hurtful kind. It was all related either to sin or sensationalism.
Not any longer. But the social impact of the McCarthy era really lasted well into the latter part of the fifties. I remember that in those days a young 18-year-old woman wouldn't think of going out without a girdle on. Well, the full, natural look, the whole impact of fashion, the appearance of nudity in women's magazines—I wonder where they got all that? That's what Playboy was talking about back there in the fifties.
FOLIO: Where are the magazines now as far as sex is concerned?
Hefner: Society and publications now are dramatically more liberated in terms of sex than they were 20 years ago. But, I also think there's a tendency to play it safe—I see some things that I find very sad from time to time. You'll find Time doing a front over on the porno-plague. I don't know whether it reflects their editorial attitude, but if it does that's pretty pathetic. I suspect that it's more related to selling magazines, which is also pretty pathetic. Some of the most respected publications are very wishy-washy about certain important moral considerations.
FOLIO: You're not just talking about sex.
Hefner: Every new, innovative and important idea has initially found itself in trouble. Many of the most important people in history were killed or imprisoned. You can't have a free society without a free press. That's part of what Watergate was all about. Now you see the erosion of a free press taking place in present court decisions. There is no free democracy without a free press. After all, the press is there to protect the unpopular opinions since they're the only ones that need to be protected. You don't need to protect the majority opinion—it takes care of itself. The genius of our particular democracy is not majority rule. It is the constitution that protects minorities and minority rights and minority opinions—the unpopular ideas which are, after all, the future.
FOLIO: Playboy has been accused of being.
Hefner: "Sexist" is a nice clichéd term that comes out of the same thing as "racist." Now, obviously, it is bigotry and foolishness to think about a black man as being any different than awhite man, other than the pigmentation of his skin. Do you think the same thing is true in terms of men and Women? Well, in this job it is, but in an interpersonal, romantic relationship, is there no difference?
Well, I think there is a difference, and I think there better be that difference. I happen to believe that sex, far more than religion, is the civilizing force on our planet. Playboy, obviously, doesn't deal with all of society. It is a magazine devoted to men of a particular age and period of life before settling down in marriage. Therefore, what we project in terms of the female is a very limited view. If it were the only view in society, it would be very demeaning and very dehumanizing.
The truth of the matter is, however, that Playboy humanized the concept of pin-up photography. The whole thrust of Playboy, the whole idea behind the "Playmate of the Month" was the little phrase "the girl next door." We were saying that sex symbols don't have to be impersonal movie stars or the kind of pin-ups that preceded Playboy. We made ordinary people into pin-ups, told a little story about them and tried to humanize them. In the process we changed a society's attitude toward nudity and sex.
The Playboy Foundation that came out of the Playboy philosophy deals with human rights and civil rights and a number of issues that later came to be known as 's issues. Playboy is the major private company in the country that has been involved in financing the Kinsey Institute, Masters and Johnson, SIECUS (Sex Information and Education Council of the United States). We've been instrumental in changing abortion laws, contraception laws, sex laws and drug laws. NORML (National Organization for the Reform of Marijuana Laws) was founded with money from Playboy.
Some people don't understand why my daughter is a full-fledged feminist and an active member of NOW (National Organization of Women). We have had fund raisers here in the last four weeks for both the abortion reform bill and for ERA. It's called human rights for both men and women. It's something I believe in very deeply, but if it means that on the interpersonal level all the fun and games and sex are out of life, then we're in big trouble. We should start finding ways to live a fuller and happier life that's consistent with the way we really are, rather than pitting our basic nature against the civilization that we've created.
I would like to be remembered as someone who had a significant impact on society in a way I feel is important. I don't have any problems at all in terms of my place in history.
FOLIO: Do you see yourself as a revolutionary? Is that how you want to be remembered?
Hefner: I would like to be remembered as someone who had a significant impact on society in a way I feel is important. I don't have any problems at all in terms of my place in history. I don't have any problem with the fact that the impact has been a very good thing. Some people thought that the Playboy philosophy was a nice little exercise in rationale for the magazine. Well, that's not true at all. The magazine reflects the same views and values that were there from my college days and before.
In the early fifties, society was just starting to change its attitudes. It was about to move into a period of prosperity and greater affluence and greater leisure time. Playboy arrived at that time to speak to that audience.
FOLIO: The magazine is your personal reflection and yet you obviously do not have a great deal of contact with the reader today. How do you keep the magazine current while living in the mansion?
Hefner: There was even greater talk about this back in the sixties when I had the reputation of being a recluse in the Chicago house, never going out for months at a time. At that time, I made the observation that I was more in touch with what was happening in society than most of my editors who spent their daily lives out on the street.
There are a Variety of ways in which you find out what's happening. I've tried to eliminate the waste and the discomfort and the inconvenience from my life. I don't learn that much about society spending an hour and a half commuting to and from work, or struggling in a line to get lunch. Those are the parts of life I've tried to eliminate—and that gives me more time. The house here, like the house in Chicago. is a remarkable magnet for an incredible spectrum of the prime movers of society. Reggie Jackson was right here in the pool two days before the World Series started. Jessie Jackson was here two weeks ago, I have a whole communications network going on here, in terms of tape and film, that permits me to keep pretty close to what's going on out there.
FOLIO: I still don't understand. You say you have a network. You hear. You meet. You're tuned in. But you don't even see a reader. How do you know What he or she is thinking? You talk about talking to the person on campus, the person right out of college.
Hefner: It doesn't all come from me alone. There is an interchange among our editors, and we make a specific point of bringing in new, young editors to reflect other attitudes. There's a dialogue going on. We live in an era of mass communication in which you can find out a great deal more in ways other than simply talking to each and every person that is a part of a particular problem.
Twenty-five years of Playboy would be a very good thing to put in a time capsule to reflect what has happened here.
FOLIO: Is there any specific subject or writer that you would particularly like to see in Playboy that you haven't covered or been able to get? 
Hefner: There isn't one particular writer. Most of the important writers of our time have appeared in the magazine. We pay extremely well.
FOLIO: Yet you've moved more heavily into nonfiction.
Hefner: That's because we're running more and more material. Playboy will continue to run a lot of first-rate fiction.
FOLIO: How do you view fiction?
Hefner: I view the well-plotted short story as a very important literary form, and Playboy has been, and will continue to be, a major place for its publication. The short story has been in trouble in America for a while. The New Yorker and some other publications popularized the character study, the slice of life kind of thing. It's very good writing, but it's not the well-plotted story that has character and construction and plot development. I think this is one of our secondary commitments. 
FOLIO: What should a magazine be? 
Hefner: I've always thought that a magazine should be like a familiar friend with a certain structure and form with which the reader is familiar and feels comfortable. The reader should know where he's going to find the various parts. A magazine often can continue to hold a reader on the basis of just one or two elements within it. I continued to buy The New Yorker for years because of the cartoons. What I want is an old friend, but an old friend who is wearing something a little different and having something a little different to say. Playboy remains incredibly consistent 25 years later to the basic premise of the book when it began.
FOLIO: What about your own plans? Do you want to continue being as involved in the magazine as you are now?
Hefner: Yes. Playboy is not something that I can really ever imagine myself selling or retiring from. I expect that I will continue to participate in it in some significant way. At the same time, I try to delegate authority so that I can enjoy life too.
FOLIO: Is it fun being Hugh Hefner?
Hefner: The biggest understatement that I could make would be to say that it is fun to be Hugh Hefner. It's all about as good as it gets. For me, it doesn't get any better.