Freelancers Call for Boycott of New Reader's Digest Association Magazines

Campaign launches against Fresh Home, Best You; RDA said to be restructuring.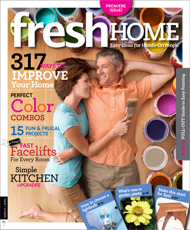 A small group of U.S. freelance writers is calling for a boycott of Fresh Home and Best You, two new magazines published by the Reader's Digest Association.
The issue, according to the group, is that repurposing content from abroad reduces working opportunities for U.S.-based freelancers. Fresh Home, a quarterly home improvement title that RDA launched late last month, repurposes editorial from the publisher's Australian title The Family Handyman, while the soon-to-launch Best You repurposes editorial from Best Health, which RDA launched in Canada last year.
Organizer Meg Weaver, who runs Woodenhorse Publishing, said writers are asking other writers, family and friends not to purchase the magazines. "We want to make Fresh Home and Best You RDA's most spectacular flops," Weaver wrote in a statement.
"What caught my eye was the interview of RDA's Alyce Alston by Samir Husni in which Ms. Alston stated that without 'repurposing' material, these magazines would not have been able to launch," Weaver told FOLIO:.  "This didn't ring true to me, as writing fees have become miniscule compared to the budget of a 300,000 circ magazine.  So, I asked for clarification and, eventually, received an answer, which basically said: We don't care where we get our content."
In an e-mail to Weaver posted on the Woodenhorse Web site, RDA's Home & Garden and Health & Wellness Group editor-in-chief Neil Wertheimer defended RDA, describing it as one of the "largest and proudest users of freelance writers in America." He indicated that just two short features and seven do-it-yourself projects were repurposed.
"All other content was original and written either by American freelancers or American staff editors," Wertheimer wrote. "Our freelancers were paid very fair and competitive wages under contracts they happily signed. Yes, we did use work-for-hire contracts, but that is because the articles we commissioned were OUR ideas, and we pitched them to the writers. Frankly, they were thrilled to get the work and to participate in the launch of a great new magazine."
"That is a deplorable attitude of a major publisher," Weaver said. " I would like to change that and start a communication between writers and publishers to arrive at a more equitable situation that will be a win for everybody, including the readers."
"Ms. Weaver's accusations serve no one, especially writers," an RDA spokesperson told FOLIO:. "Worse still, she chose to further disseminate these statements in a press release even after being made aware of the facts.  So it's a small amount of ado about nothing."
In a previously announced partnership with Saddleback Valley Community Church pastor Rick Warren, RDA in January launched the Purpose Driven Connection, a quarterly magazine featuring all original content.
RDA Restructuring?
The boycott news comes after reports that RDA has hired law firm Kirkland & Ellis to explore restructuring options, including a possible bankruptcy filing. RDA also has hired financial adviser Miller Buckfire. Both firms will "assist the company in staying ahead of the problems in the market by exploring strategic initiatives, including, but not limited to, raising additional capital and easing our debt burden," the spokesperson said.
Last month, credit agency Moody's called RDA's credit structure "unsustainable" and said the company—which is owned by Ripplewood Holdings—may violate its covenants, or restructure, within the next 18 months.
"This isn't terribly surprising," said DeSilva + Phillips managing partner Reed Phillips. "Most of the media companies that were acquired by private equity firms over the past few years—and therefore are saddled with a substantial amount of bank debt—are examining their options, which typically include refinancing or restructuring."
Meet the Author
---