Free Web Tools for Everyday Operations

Open source applications don't stop with CMS or social networks.
In today's Web-first, print-second workflow, any tool or service that offers a high quality solution quickly—and even better—for free, is highly prized. But publishers are starting to catch on to the fact that they can leverage public and shared sites to meet many of their needs, from pushing stories out to more eyeballs than their usual audience to finding high quality stock photos and artwork at a fraction of the cost of hiring a photographer or dedicated illustrator.
"We've been using quite a few open source solutions for years, which is what many of the sites like Flickr, Twitter and Facebook are based upon," says Jay Hook, IT director for Reni Publishing. "Personally, I feel that open source in the publishing world is going to become a turning point for many independent publishers as they become more user-friendly and feature-rich. Many publishers are unaware of the solutions available, mainly due to a lack of research."
Reni is now in the early stages of looking at a free site for creating digital editions, called Issuu. "It also has its own markup language, which is used to control the viewer's theme," says Hook. "This means that designers will have the ability to create all kinds of new things for the Issuu viewer."
More for Less
Flickr, an online network that features photographs and images submitted by members, offers publishers an alternative to the stock images from services like Getty and Corbis, as well as a chance to showcase their own work. Flickr does not own the rights to use photographs found on the site—every photo is property of the appropriate rights-holder of the image. A large collection of Creative Commons licensed photographs are available to anyone as long as they are using the appropriate licenses, provide proper attribution and have cleared any additional requirements, such as model releases.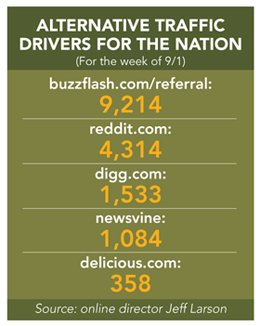 From time to time, companies may choose to advertise on or sponsor a Flickr group or area of the site in order to engage the Flickr community through the sharing of photography. Flickr has a formal and standard sponsorship program that allows for sanctioned activity but community guidelines do not allow commercial usage by third parties except through formal relationships, or through Getty Images.
In July, Flickr announced a partnership with that old publisher standby, Getty Images, which can now invite Flickr members to participate in a Flickr-branded collection on gettyimages.com. Thousands of images are available for licensing to Getty Image's creative commercial and editorial customers.
Twitter: The Editor's New Best Friend?
Many publishers are leveraging established social networks like Facebook to promote their titles and push content out to the Web. The Nation recently added Twitter—a service that lets members stay connected and share news with short messages—to its arsenal. "We're putting up four stories a day," says online director Jeff Larson. "Right now we have 66 followers but that's just word of mouth. We will soon start promoting onsite with RSS."
During the first week of September, The Nation received an additional 24,130 viewers from links and postings on other free sites. "That's relatively quiet," says Larson. "Often digg, reddit and del.icio.us can send much more when a big story hits."
Twitterholic is a service that scrapes the network for the most popular posters. Many publishers, including Time, are having editors post to Twitter to develop a following. "Get your columnists and experts to put stories on Twitter," says Jim Louderback, CEO of Internet video company Revision3 and former editor-in-chief of PC Magazine. "When they develop a following, it binds that following to your brand. You may also find people in the community who should be part of your brand."
Portal sites are also offering new traffic-driving services. With Yahoo! Buzz, Yahoo determines the most popular searches, then showcases the most popular stories within those topics, based on activities like voting and users e-mailing the stories to friends. Stories with the most buzz may be published on the Yahoo home page. Publishers can put Yahoo Buzz buttons on their own site to drive votes.
Sphere is a service that offers contextual matching technology, which can index and text artifacts or media associated with text and generate related content without additional meta-data. Services include contextual embedded links, widgets and video. The Sphere-related content widget finds blog posts and media articles related to the content. Time, Newsweek and People.com are using Sphere.
SIDEBAR:
How Open Source Might Come Back to Haunt Magazine M&A
Open source—a program whose source code is made available for use or modification as users or other developers see fit—is enabling publishers to ramp up their online businesses quickly and cheaply. And a publisher with a healthy Web business can be valued between 10-to-15x EBITDA, compared to six-to-10x EBITDA for print-only.
However, some M&A experts say an open source-based business could come back to haunt the buyer of that business—especially if they buy something without realizing its key products are based on open source software. With software patent lawsuits costing $2 million to $5 million, you better know what you have and whether all conditions have been honored.
"Open source is a big issue," says Charlie Engros, managing partner at legal firm Morgan Lewis. "When you buy a commercial enterprise today, there's an excellent chance it includes open source software. You could also be buying a lawsuit because someone could force you to make that software freely available to the world."
New applications are emerging that can detect open source installations, such as OpenLogic Discovery, which identifies installed open source software through graphical interface and command-line interface. With the American IP Law Association estimating defense against a software patent lawsuit costing between $2 million and $5 million, that's a strong incentive for potential buyers to make open source part of the due diligence process and make sure all terms and licenses with open source software have been fulfilled.
Meet the Author
---