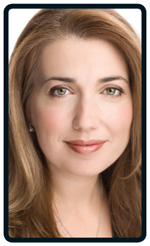 She's a digital doer whose smart moves have made print behemoths into online powerhouses.
When you begin to zero in on who's behind the major online successes at Time Inc.—People and Sports Illustrated are two exceptionally successful examples—you arrive pretty quickly at the name of Fran Hauser. The president of digital for Time Inc.'s Style and Entertainment Group, Hauser recently added the Lifestyle Group to her growing portfolio. She is now responsible for all digital operations, and more than an estimated $100 million in revenue—for RealSimple, People, Entertainment Weekly, InStyle, Southern Living and MyRecipes.com.
Under Hauser's tenure, her brands have launched more than 20 mobile and tablet apps that have attracted 25 million monthly users. She managed the acquisition of the StyleFeeder shopping site and launch of StyleFind. In January 2011, People.com became the first magazine-brand Web site ever to surpass 1 billion pageviews, and in 2010, People.com produced 12 percent of the overall brand's revenue, a remarkably high number for a magazine that produced slightly more than $1 billion in PIB ad revenue in 2010.
"It was a huge team effort," Hauser says. "Our editors focus on what the consumer wants most from a celebrity news site—up to the minute news, fun photos, and access to their favorite stars—by making research-driven decisions on which features should (or should not) be included on People.com.
"I am also proud of the synergy between the business and editorial staffs," she adds. "By fostering an inclusive culture of teamwork, the Style & Entertainment Group's digital properties consistently deliver compelling programs to our advertising clients."
In an era when online businesses are constantly on the hunt for new technology-oriented solutions for growth in users and in revenue, Hauser's brands, at their most fundamental level, understand that great content underlies online success. From news scoops to databases of celebrity information, plus new products like StyleFind, Time Inc.'s first stand-alone shopping site, Hauser's initiatives have illuminated how magazine brands can thrive online. 
VITAL STATS: People.com generates more than 1 billion pageviews and 12 percent of the brand's overall revenue (People had more than $1 billion in ad revenue in 200, per PIB).