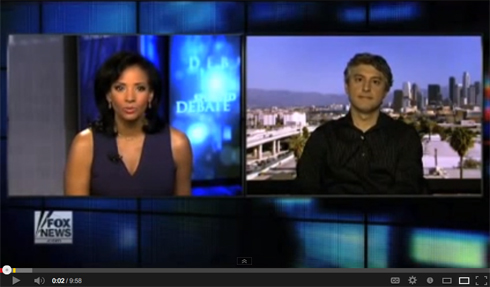 Here's the thing with Lauren Green's interview with Reza Aslan about his new book Zealot: The Life and Times of Jesus of Nazareth that aired on FoxNews.com, which you've absolutely seen passed around Buzzfeed and Facebook like a cheerleader's slambook post-prom: It's 'gotcha' journalism. It wasn't meant to inform or engage (that is still the goal of journalism, right?). It wasn't meant to be thought provoking or to inspire debate.
FoxNews.com brought Reza Aslan on for an interview to boost ratings, period. He was asked that first question: "You're a Muslim, so why did you write a book about the founder of Christianity?" because it was incendiary. FoxNews knows who is not its audience as well as who is its audience, and if they're not going to make money off you for clicking a story because you like them, then they may as well make money off you for clicking a story because you don't like them. The network wanted a viral story, something with bite even if it had no teeth, because crazy press is bad journalism, and bad journalism equals good press, and all press leads to clicks, which leads to those sweet dollar bills, y'all. I mean, the first thing I thought was, "Craaaap… is Rupert really losing that much money?"
Aslan has over twenty years of experience researching religion and history. He is a graduate of Harvard Divinity School, putting him the ranks of those other rabble-rousers, Horatio Alger and R.W. Emerson. Saying Reza Aslan, a known scholar of religion, shouldn't write a book about Christianity because he's Muslim is like saying Paul McCartney shouldn't write a book about vocal harmonies because he's a guitarist. [Did that make sense to you? No? Good.]
Let's be honest: No one really cares that Reza Aslan wrote a book about Jesus even though Aslan is a Muslim. Murdoch doesn't care. Ailes doesn't care. Lauren Green didn't even care enough to read the second page of Aslan's book where he notes his Islamic faith. And the bravado with which she goes after him is alarming, considering that she herself is a Christian who, as noted by Eric Hananoki at Media Matters, frequently reports on Islam.
The people who care about the Aslan-writing-about-Jesus bit are those easily-manipulated, fear-mongering Americans, because FoxNews has told them to care, and it's spent a decade building an empire that depends on a good chunk of its audience being afraid of Muslims.
In an interview with John Oliver on The Daily Show, Aslan talked about who Jesus really was, in the context of his time: "… [he] stood up for the weak and the powerless, the outcast and dispossessed… [Jesus] went to the cross on behalf of these outcasts he was fighting for…"
According to Aslan, Jesus was a rebel badass. And FoxNews can't have you agree because FoxNews doesn't make money if you agree. Jesus loved the underdogs so much, that he went to bat for every single one of them. It's pretty hard to find controversy in a selfless Jesus, regardless of your religion. So instead, FoxNews switches the focus to the seemingly incongruous notion of a Muslim writing a book about Christianity. Otherwise, the network doesn't have a story, its audience doesn't have anything to get worked up about and the rest of the media has nothing to jump on.
So is FoxNews' crappy journalism a pretty genius marketing move? Only their ad team knows for sure. But given that Aslan's book just hit number two on the New York Times bestseller list, I'd bet they're happy to argue all the way to the bank.